Port of Dragons 100% Floral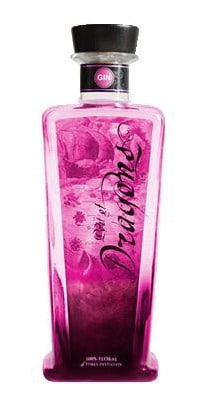 Ahhh, Port of Dragons! We meet again!
The mere mention of your brand name makes me feel as if I should be sipping a G&T in Qarth. Or King's Landing. Have I been reading too much Game of Thrones lately? Perhaps. But let me drop these cultural references and get down to the gin. Does it actually invoke the stark landscapes of Essos or the well traveled paths outside Winterfell? Or Maybe Spain, seeing as that the place it hails from is very real and very much on the cutting edge of innovative gins.
[No this is not a re-post. You are correct that a short while ago we reviewed 100% floral's companion gin 100% Pure]
The Nose of the Dragon
It smells a bit vegetal. Hints of cucumber, and even shrubs. An ambiguous "greenery" smell. Hints of rose emerge from the mix give it a slight "summery" character. I'm picking up a bit of juniper around the edges, but overall it has a contemporary character. But like the Pure, the nose isn't quite doing it for me.
We get a bit more into the taste. It has a smooth character, with heat slowly building along with the taste. Rose early, but then Juniper shows itself boldly. Citrus around the edges, lemon and cardamom on the close, with lingering anise and juniper on the close. That faint vegetal flavor you had on the nose rears itself at the end. Overall, not anywhere near as close to the floral you might expect from the name "100% Floral."
Cocktails
I could readily suggest a closer look at the Aviation, or other drinks with Creme de Violette. Those might really highlight the floral notes at work here and somewhat hide the more discordant notes. I found it went well with lemon juice making an apt, if not outstanding ingredient in citrus oriented cocktails. It smoothness serves it well as 100% Floral does its best to be inoffensive enough to everyone, but it never quite takes a bold stance either way. Odd as given the name you might expect there to be something boldly decisive about this drink's direction. Sadly, its just average overall.
Price: $35/700mL
Origin: [flag code="SP" size="16″ text="no"] Spain
Best consumed:  A good compliment to floral oriented cocktails, but it doesn't quite elevate them. Good for almost any cocktail. 
Availability: Spain
Website: http://www.ginebradragons.com/
Rating: The juniper in here is strong enough to make this a good choice for gin drinkers who want a contemporary spin without completely throwing out the classic gin ideal. But I wasn't wowed. The name implied a bold statement. And what you get is a "myeh."
[Rating:2.5/5]
International Gin Exchange 2012  >>>
Thanks to David over at Summer Fruit Cup for helping  make this tasting possible. Because the bottles are small sample bottles, this review is not as thorough as my normal gin reviews. There's only enough for some tasting neat and no more than one normal-sized cocktail. Although I do my best to give as full of a review as possible, complete with ratings, the tasting is not as complete as I would normally want to do.
Readers' Reviews
Thanks for submitting! Your review will be posted shortly.