Based on our years of tonic testing, we believe these are the best tonics to complement your favorite gin in your next gin and tonic. If you don't see your favorite, check out our entire tonic review archive and read more about what we think.
Cheers, and happy Gin & Tonic-ing.
Best TONIC WATER for your GIN AND TONIC.


Fever Tree's main tonic, fully sweetened, we think is simply the best tonic out there.
Designed to be an upgrade from your standard supermarket tonic water, Fever Tree's classic tonic water has a gentle sweetness, a clean, crisp dash of quinine and bitterness, and small, tight carbonation bubbles. The balanced flavor of the tonic lets the flavor of your gin come through and the clean, slightly bitter finish whets the palate just enough. Overall, it's my favorite and my-go-to tonic water. I can't recommend it strongly enough. [Buy from Amazon.]
Honorable Mentions
Brooklyn's Q Tonic is still just as worthy of note as ever, but it's their Q Indian Tonic Water that gave Fever Tree's Indian Tonic a run for its money this year.
If you're located in the European Union or U.K. Markets take a look for the bitter, citron kissed Tassoni Tonica or upstart newcomers Double Dutch who wowed us several times last year with their line of mixers. If you're looking for an alternative to the above, check out Double Dutch Indian Tonic Water.
For more tonic water reviews, check out our tonic water archive.
Best TONIC SYRUP for your GIN AND TONIC.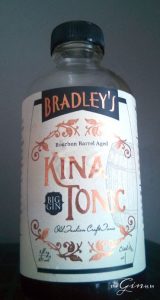 Fans of tonic syrup, who would have thought that the best way to improve upon a syrup made from wood, would be more wood?Bradley's Kina Tonic was aged in barrels used at one point to house the quite excellent Bourbon Barrel Aged Big Gin. Aged for a minimum of four months, its really mellowed the sweetness and deepened the cinchona bark flavors. Our favorite for 2017 is still our favorite in 2018.
If that doesn't convince you, how about this quote from the review: "Incredibly well balanced, with plenty of citrus, spice, and bitterness to make the perfect gin and tonic. One of our favorites, and an excellent pairing for nearly all gins, but especially classic styles with a heavy juniper head."[Buy From Amazon]
Honorable Mentions
Jeffrey's Not so Plain tonic syrup might have been one of our favorite new tonic syrups of 2017 with a solid bitterness and a pitch of salt which does a lot to elevate the flavor, especially mixed. Many of the elder tonic syrups of the category are still among the best: think Oklahoma's Strong Tonic or Tomr's. Overall, we've seen tonic syrups wane a bit in popularity as of late; however, that doesn't mean that there's still not several good options on the market today.
For more tonic syrup reviews, check out our tonic syrup review archive.
Best LOW-CALORIE TONIC WATER for your GIN AND TONIC.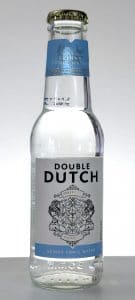 This is perhaps a difficult category, as there are two schools of product. On one side are the truly "zero-calorie" tonic waters; on the other are the low calorie ones marketed as "skinny" as "light." For 2018, I think the best Skinny Tonic I've had was Double Dutch's Skinny Tonic Water— mostly because it still tasted full flavor with a minim of cloying sweetness. If you're looking for a tonic to let your gin shine through, or looking to reduce calories, this is a tonic water that is sure to appeal to both.
Honorable Mentions
I also think that both Fentiman's Light Tonic Water and Fever Tree Naturally Light Indian Tonic Water hit the mark in terms of flavor and less sugar.
I struggle a bit personally in terms of artificial sweeteners, but tonic fans looking for a true zero-calorie option have plenty to pick from, including perhaps the most significant low-calorie release of 2017, Zevia's Stevia-based offering.
For more, check out all of our low-calorie and zero-calorie tonic reviews.
Best FLAVORED TONIC WATER for your GIN AND TONIC.


Fentiman's Pink Grapefruit is the rare flavored tonic water that manages to add flavor while still being a mixer. That is, the gin still stars. Beautiful grapefruit notes and a pleasant long lasting bitterness. It's one of the best citrus accent mixers out there.
While some might not like the pink color of the tonic water, for me it's ultimately about flavor. Why not embrace it and combine it with a gin prone to cloudiness like Cotswold Distillery's Cotsowlds Dry Gin. It makes a lovely purplish haze. And it's delicious.
Honorable Mentions
Fever Tree's Elderflower Tonic Water— the best flavored tonic winner in 2017— is still the gold standard of the Elderflower category, though others like Bottle Green's Elderflower Tonic are going for them.
Best FLAVORED TONIC SYRUP for your GIN AND TONIC.
It might be a category that goes below the radar of many a Gin and Tonic drinker when they think of the best tonic water for their gin and tonic; however, Jeffrey's line of tonic syrups are worth taking a closer look at. Especially considering the balance they manage to pack into their syrups.
My favorite of the bunch was the citrus and spice inspired Lime, Galangal and Orange. Though not a perfect counterpoint for every gin because of its verve, it's the perfect syrup for a loud anise forward or holland style gin.
[Buy from Jeffrey's Tonic Shop]
Honorable Mentions
For fans of Elderflower, Jack Rudy's Elderflower is the gold standard among tonic syrups. Though I have to say that every time I've had it, I've been in love with the ruddy red hues and aromatic power of Strong's Hibiscus Tonic Syrup.
All of our flavored tonic syrup reviews.
Best BITTER LEMON for your GIN AND TONIC.


Stop me if you've heard this one before, but Sicilian Lemons are the best in the world. Amalfi coast lemons are also the best in the world.  emons are serious business. I don't want to get caught up in this sour rivalry*— Franklin and Sons Ltd. Sicilian Lemon Tonic as you might expect based on the same subscribes to the former. British Water + Sicilian Lemons + Ecuadorean Cinchona = Sicilian Lemon Tonic.
Combine it with a robust juniper-forward gin for a delicious lemon forward summer cocktail. Or refuse to take sides and be a modern day peacekeeper: mix it with Malfy Gin to prove that there's room in a glass for both Sicilian and Amalfi coast lemons.
[Available from Amazon in the UK]
Honorable Mentions
Bitter Lemon is a surprisingly robust category. If you've been drinking bitter lemon since 60's, you can't go wrong with Canada Dry Bitter Lemon, but I was recently quite impressed by Llanllyr Source Bitter Lemon also.
If lemon's not your thing, but orange is— try Cock n' Bull Bitter Orange— which would assuredly be the winner if I gave a medal for that niche of a niche mixer.
Not enough bitterness? But wait, there's more bitter lemon in our archives.
Best DEAL for your GIN AND TONIC.
I've come around. Or turned to the darkside. Depending on your perspective.
There's a lot of ways to spend maybe about a dollar or less for a liter of tonic water. Most of them quite frankly are bad and underwhelming. But fortunately for gin drinkers everywhere Schweppes is as ubiquitous as a tonic water can be— and it's quite good. Is it the best tonic for your gin? Given options I'd probably choose one above.
But between a rock and a hard place, I love knowing that anywhere in America— wherever there's a grocery store or bodega— there's Schweppes. Like an old acquaintance. Ready to grab a drink, but isn't going to blow up your phone like a group text.
Honorable Mentions
365 Everyday a.k.a. Whole Food Store Brand Tonic Water is probably your best deal if the kind of sweetener is important to you. Using cane sugar instead of HFCS is a point for sure, but I find its bitterness a bit too mild and it's sweetness too high for it to be my recommendation in the category. If this is your concern, the price is the lowest you can get for a six pack.
Best TONIC LAUNCH

This one came down to two companies who I think launched across the board stellar options this year, but I went with Double Dutch because of the creativity that went alongside their more traditional offerings. Though already recognized for their outstanding light tonic, their Indian tonic was just as stellar— if in a more competitive category. And that cranberry tonic water they make. Although it's the only flavored tonic water in that respective niche, it's quite beautiful and works with a range of gins.
Overall everything they've made has impressed me and I look forward to seeing how they continue to elevate the mixer space in 2018 and beyond.
Honorable Mentions
Llanllyr was the one I considered in this space as well. When you make a tonic water and bitter lemon as good as they did, it's a strong stateside launch. I'm just as excited to see what they do next, and where they go from here.