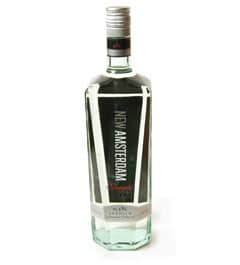 Ed's Note: One of my least popular reviews: And to think, I only gave it a 2.5! Here's the thing: it doesn't really taste a ton like gin. But in the context of the contemporary distilling movement where there are many non-juniper forward gins out there, it isn't completely out of place. It's inoffensive, it's bland. Although perhaps this rating is a tad higher than I might have given it in 2014, I'm not going to re-review it because I don't think the formula has changed enough to warrant another look. If you want a citrus forward gin that tastes like gin, look for something like Bluecoat or Pinckney Bend. If you're looking for something cheap and don't care if it tastes closer to citrus vodka than gin, this is your answer. -
-Aaron 1-20-14
I don't want to give the impression that I have a "top shelf" bias. I do drink all gin. This gin was lovingly brought to me by a friend who brought it for a dinner party we had a few months back. Thoughtfully, she brought the 1.75 liter bottle because a lot of us drink gin.
The taste of New Amsterdam is surprisingly clean. It may not be as smooth as some of my favorites like Miller's, Hendrick's or G'vine; it is smoother than Beefeater or Tanqueray. It goes perfectly well in a gin and tonic and is complimented nicely with a small amount of lime, owing chiefly to its largely neutral flavor. Gin drinkers might be surprised by New Amsterdam as the juniper is nearly absent in its flavor, and that might be biggest issue with it. It almost doesn't taste like gin.
I said "almost," and this is where New Amsterdam's neutral- the slightest hint of orange or lemon flavor, becomes its biggest strength. It is the perfect party gin as it goes well in nearly anything.  I wouldn't use it with a high quality mixer, but at at a party, it works well with sour mix to make a decent Tom Collins. With an inexpensive Vermouth, its smoothness makes it a good party martini. New Amsterdam is versatile, inexpensive, and is one of the few gins that you could probably substitute for Vodka in mixed cocktails and not immediately detect the difference.
The overall verdict is that for the price, there's few gins more well-suited to being on the table at a party.
Price:<$15 for 750ml; 1.75 liters often for under $30
Best consumed: With Tonic in large groups of indiscriminate gin drinkers
Website: http://www.newamsterdamgin.com/
Availability: Everywhere.
Rating: Definitely passable
(2.5/5)
Share This!