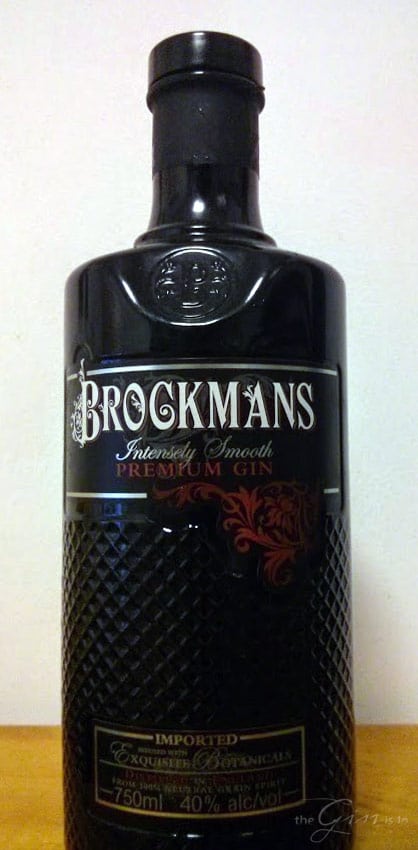 Books and Covers seem a common theme here at The Gin is In. Bottles often tell us a lot about a product, in particular one where we might be willing to try something new, it can be the only thing we have to go off of. Fortunately for distillers, brand loyalty as strong as it is, is not as strong as "spirit loyalty," and the willingness of people to experiment or try something new is why the hundreds of new spirits entering the market stand a chance. Sure, I want a vodka, but perhaps I want a new vodka today. Or in this case [and every case on this site], gin.
And what might bring you to purchase a new bottle of gin? Surely if you've done your research or brought a smart phone you might look for tasting notes. Or Reviews. But other times, you might not put that much work into it. Your desire for gin is strong. You'll buy a gin. But you're going to try something new. How about that bottle.
And that is where my friends the book/cover thing is so very important. There are people making decisions based on this fact.
So why is this so relevant here? Because Brockman's stark, black and red bottle eschews many of the trappings that might immediately give away that this gin is a stark departure from the main of the lot. Blackberry and Blueberry? Rare botanicals indeed. Might you have expected this to be a floral bomb? I don't think I would have [had I not known about the product before opening it].
Anyway, enough with the cover. Let's open it and read the book.
In our own < 100 Words
Brockman's distinguishing characteristics are surely the botanical blend. The language that tells the story of Brockman's probably won't sound new to anyone. Let's paraphrase: "smooth" [check], "able to be drank on its own (or with ice)" [check], something "new" [check] and "original" [check]. Was it distilled in an antique copper still? Yes [uh Check!]. The story's not new, but the botanical list does hold surprises. The two berries being of the utmost. Its story isn't new, but the drink itself clearly stands out.
Tasting Notes
Bright and floral on the nose. Strawberry, Hibiscus, a touch of sourness and a hint of raspberry. A little bit more traditional citrus bouquet in the mids, with a faint hint of ethanol in the lows. The bouquet is strong and intense, but dissipates rather quickly in the air. Very inviting, very enticing. I love the nose on this.
The palate begins with a surprising amount of heat for being bottled at 40%. The early taste is unresolved with hints of gingerbread and angelica. The mids are where the notes that make Brockman's stand out come to life. Raspberry lemon cake, a distinct sweetness, bright and robust. It begins to take on a more dry tone with blackberry and coriander, ripe berry. And then where it all ends up, its remarkably dry. Refreshing, and invites the palate to want some more. This dry finish to all of this sweetness is what really sets it apart from the vast majority of Contemporary fruit/floral forward gins. I loved the dry finish, and found it to be the right balance of sweetness and dryness to make me want to drink it neat. Or on the rocks.
Cocktails
The Gin and Tonic was exquisite, with notes that reminded me strongly of a blackberry bramble. Orange, lemon, blackberry strongly present themselves on the palate, with smooth and clear berry notes on the finish. It really was startlingly bright and distinctive, and this drink highlighted all of the most distinctive [and best] notes of this gin. Recommended.
Since Brockman's asks to be served on the rocks, I mixed up my martini with a Martini on the Rocks. It was sweet and refreshing. The floral notes muted, but present less intensely. The finish was still dry, with a long fermented finish. Though the finish had the Vermouth talking loudly, the actual sips themselves were balanced and nice. I also quite enjoyed this drink.
I think tried it in a Gin Daisy. This is where it surprised me a little, as I found it a touch more sedate than expected. It took a bit of a backseat role. Mild lemon, with a little bit of crispness and blackberry on the finish. Refreshing indeed, but perhaps a touch less unexpected. Nice, but it didn't wow me.
But the Aviation did. Cherry and blackberry cobbler on the finish, baking spice and summer pie. The finish was ripe with rhubarb and violet, long and floral. There was a lot happening in here, with the added spirits from the Aviation really transforming and pushing to the front of the palate different notes than we got in the other cocktails. In a series of cocktails we definitely enjoyed, this was the single most standout one. And we love how the dry finish married the best parts of contemporary and classic Aviations all in one.
We also enjoyed the Bronx Cocktail, and it's rare we have a drink we like this much end up as only the "second best" drink with a certain gin. Spicy and earthy on the finish, with a lot of depth to the citrus flavor. Baking spices like angelica, cinnamon, and tart fruit come through before making way for berry on the finish. Bright and really good. This cocktail could make a fan of many a non-gin drinker, and anyone not sold on the Bronx cocktail. It's good stuff, also recommended.
Vitals
Price: $35 / 750 mL
Proof: 80
Origin:  [flag code="GB" size="16″ text="no"] UK
Availability: United Kingdom and United States
Rating: If you've already made up your mind about contemporary style gins, this is one I suggest at least trying. The dry finish sets it apart and it may win you back over. For those who already enjoy the contemporary style, this is one that I think stands head and shoulders above the vast majority. It's bright, fresh, and fruity, without being too over-the-top. I'd recommend this wholeheartedly to anyone who's looking for an upgrade from their Hendrick's, or looking for a Nolet's that's more cocktail friendly. There's a lot to like here, and all but the most hardcore juniper-only gin drinkers will find something worthy of their time here. I highly recommend Brockman's Gin. 
[Rating:4.5/5]
Readers' Reviews
Thanks for submitting! Your review will be posted shortly.
Jan 9, 2017
Delicious, warming, fruity little number - perfect after a crisp winter walk across the fields to our local pub. The barman recommended it above the usual suspects, and it didn't disappoint. I'll definitely be adding a bottle to my collection. Nice one!