Bombay Amber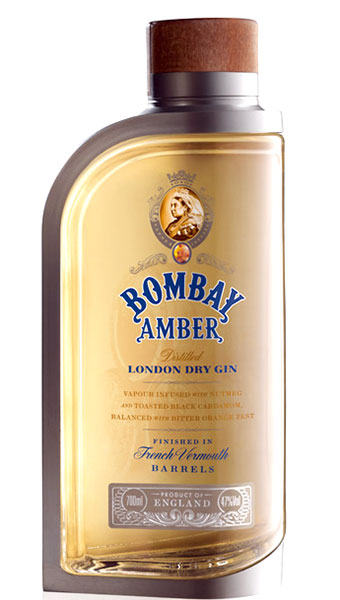 Perhaps the best part of doing this new series of impressions is that I no longer have to hold back on sharing some tasting notes, just because I don't have a full bottle of the gin. While I'd love to spend some time tasting Bombay Amber in a series of cocktails, it's really just not plausible. That is unless I'm able to schedule a flight which connects/goes to Las Vegas, Toronto, Singapore, or Sydney. Though I've been doing a fair amount of traveling this year, those cities have eluded me. For now. Though I've got my eye on you Sydney.
I'll spare you my thoughts on travel retail*, and get down to the gin.
In <100 Words
Take the standard Bombay Dry Gin [] botanical blend, and add smoky black cardamom, nutmeg, and the zest of a type of bitter orange. Could it be Seville? Myrtle Orange? Or maybe even Amara? My money is on Seville orange. It is then aged in oak barrels, which formerly held French Vermouth. The bottle is distinctive, unlike anything else, and as with Sapphire and East, it looks as if Bombay is pushing the envelope slightly further than it really is.
Impressions
The color is a lovely straw, perhaps a shade lighter than amber, but striking nonetheless. It is perhaps brighter and more golden than many of its peers in the aged gin space.
The nose is somewhat quieter than other Bombay brands; however, it is nice even so. There's juniper as well as mildly exotic coriander, with some cinnamon and cassia peaking through in the low notes.
The palate begins quiet, with an appreciable smoothness as the flavor builds. Fresh cinnamon, quickly showing a more complex spiciness to it with minty, peppery notes showing through, as well as a touch of licorice. There's a hint of oak/wood here on the mids to lows, with some carmelized orange rind, cinnamon, brown sugar, nutmeg and mace on the finish, with a faint afterglow of oak and fermented fruit. Very pleasant, with appreciable complexity.
A worthy sipping gin, certainly. I can't speak accurately to its use in cocktails, but one might expect it would work well in a Martini or Negroni. Though i'd gander with those already present vermouth notes, it might be more worth experimenting with in some less obvious cocktails.
Perhaps the next time I pass through one of those airports.
Vitals
Price: $45/ 750 mL
Proof: 94
Origin:  United Kingdom
Availability:  Toronto, Singapore, Sydney and Las Vegas' major international airports.
Rating:  Though likely trying to be more of a status symbol than a widely appreciated gin, it's a shame because Bombay, because of the reputation of its Bombay Sapphire brand, might just have the cache necessary to move Aged gin into the mainstream consciousness. It's a good product, that unfortunately seems relegated to obscurity as a collector's item.  [Rating:4/5]
*ugh.
Readers' Reviews
Thanks for submitting! Your review will be posted shortly.