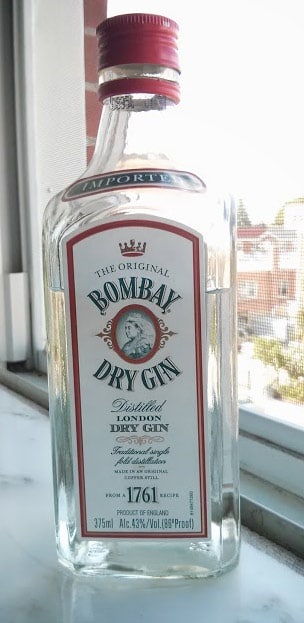 You might know the name Bombay Dry Gin better from the Sapphire variant which was among the pioneers in putting all the botanicals clearly on the back of the bottle [something Bombay Dry, Citadelle, G'vine and other do now also] and one of the first crossover gins designed to appeal to folks who don't really dig the juniper forward gins of yore.
Tasting Notes
Neat we have lemon fresh and lots of juniper.  The lemon notes seem to overwhelm and dominate the nose on this at the end. Bombay Dry Gin is pleasant and quite classic on the nose.
The palate has a nice three part flavor. At first, on the tip of your tongue, juniper hits— nice and fresh.  Bombay Dry Gin's middle has a nice build, a touch of a floral orris and cinnamon. Lemon quickly puts an end to that before giving way to a touch of heat, juniper in the back of the mouth with an ample amount of harsh alcohol heat. There is a touch of the "burning pine" sensation, which epitomizes some of the more widely available brands.
But why I think Bombay Dry Gin does good work is that the other botanicals help lend balance and it although it is strongly citrus and juniper forward, they never quite step out in the absence of other notes and counterpoints. Bombay Dry Gin is a well grounded, well rounded Classic style gin.
Cocktails
In a gin and tonic,Bombay Dry Gin masquerades as a plain juniper/lemon gin. Mostly classic notes coming through, nothing too unique. Although I think it goes quite well with tonic, the quinine offering a nice counterpoint to the initial juniper forward notes.
I found the earthy counterpoints, the almond and warm creamy buttery notes to be emphasized in a Martini. Nice, especially if you take the 4:1 approach on the Vermouth. I fear that the harsh closing notes experienced neat become a bit powerful in a less balanced Martini.
The Gimlet underwhelmed me, Bombay Dry Gin didn't quite standout as expected; the lime covering key notes in the gin. I found the Negroni to be good as well. Not exotic though in the least. Juniper and citrus coming out. Overall, it was a solid classic drink.
Overall, Bombay Dry Gin
Bombay Dry Gin is classic style gin with personality and nuance. It has a lot of character, but for those who want a more traditional style gin than the more popular Bombay Sapphire, this is the way to go. 

Readers' Reviews
Thanks for submitting! Your review will be posted shortly.
Apr 4, 2019
Is it OK to give this Bombay Dry 5 stars plus if I gave the Sapphire 5 stars? Sure. Sapphire as a modern gin is a keeper not simply a "gateway gin" IMO and for me a 5 star modern gin. But this more traditional London dry inspired me to try out the old 50:50 martini with both the Dry and Sapphire...and wow on all accounts. Thank you, Derek Brown. As an aside it nudged me towards that 2 parts 1/2 part dry vermouth vodka martini as well (with Finlandia rediscovered). Angostura orange bitters always. Stuck on Bombay? Yeah, baby! Like Blues on Muddy Waters! For an old rounder London Dry (and if you have read Plato and Aristotle). Yes! This stuff on the rocks, in Gin Bucks, Gin and Tonics or Martins? Yes. BTW don't make the Negroni a litmus test for any gin IMO...this regular Bombay Dry inspired me also to get The Savoy Cocktail Book. Not kidding. So nuanced in some ways its makes it necessary to keep one bottle of juniper- blasting Tanqueray around...
Apr 4, 2019
This has been my liquor of choice for multiple years. To me, it is much smoother than Beefeaters which is its main competitor in price. Given the price difference between it and the Bombay Sapphire, the taste of Dry and price value makes it preferable to the sapphire.