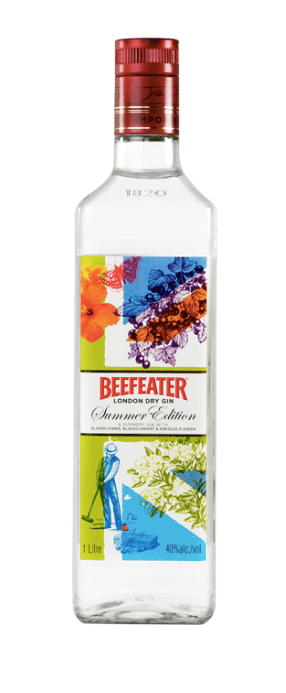 Let it be known that I am a fan of interesting flavors in my gin. I don't shy away from a fruit or obscure herb here and there. That's why I was ecstatic to try the Beefeater Summer Gin which boasts the power of "elderflower, black currant, and hibiscus."
The tasting notes are decidedly floral, but the combination of flavors remind me more strongly of pomegranate than of Hibiscus and Elderflower. Elderflower might have been included only as a mixing hint (as in "hint hint: this would be great with St. Germain's Elderflower Liqueur"). Fans of Beefeater's classic London Dry Gin will not be disappointed as it is unmistakably Beefeater in taste and mouth feel. At first I could tell immediately that this was Beefeater, and then the fruit/floral notes come in at the end, finishing in a bit more crowd-pleasing fashion.
I would classify this as one of the "gateway" gins for non-gin-drinkers. It would probably mix well with Pama or St. Germain's. The floral quality makes it a complimentary addition to an Aviation, and a satisfying, if unspectacular gin and tonic. Overall, its refreshing to see Beefeater expanding its reach with craft gins such as summer gin and Beefeater 24, but I would say for just a few dollars more you can find a gin that is much more satisfying and one that won't be leaving shelves in a few short weeks. Try it while you can as it will be gone at the end of the summer.
Readers' Reviews
Thanks for submitting! Your review will be posted shortly.