Since our inception ten years ago, the GIN is IN has reviewed tonic waters and tonic syrups. When we started the GIN and TONIC was the top way our readers drank their gin. Though much has changed in gin since our launch in 2009, the gin and tonic still remains as quintessential as ever. The landscape has more tonic products than ever before, so although our best tonic list continues to grow in terms of categories we award for— we still work to try everything we can to find the best tonic for your next gin and tonic.
Cheers, and enjoy our Best Tonic Award Winners for 2019—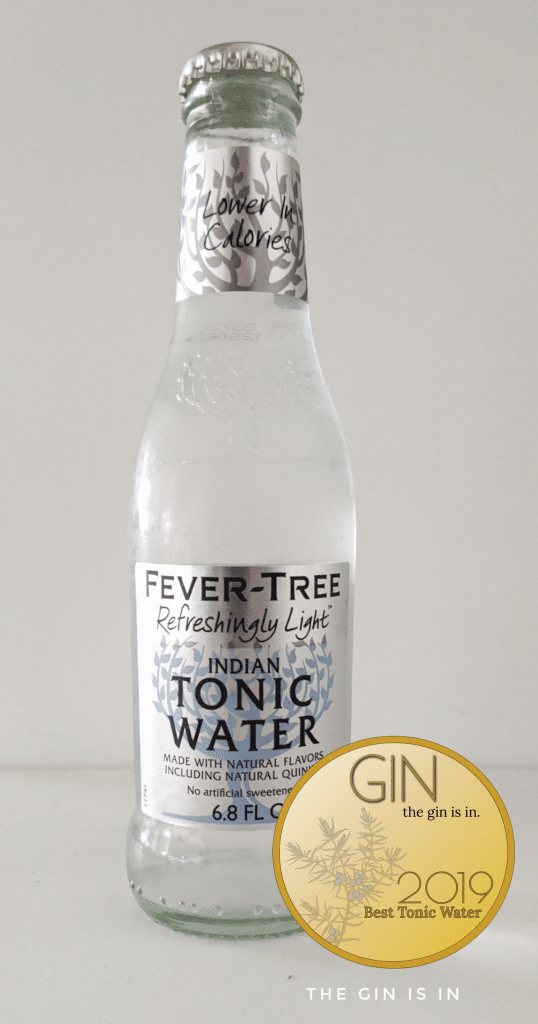 At one point Fever Tree Light was a legitimate "light" offering on the tonic water scene. In 2019, it's calorie count is closer to other "full calorie" tonic waters. Why we love Fever Tree Light and think its the best tonic water on the market today is a combination of—
Incredible effervescence; it retains its bubbles throughout a standard sized gin and tonic
Balance of quinine, citrus brightness and enough sweetness that it tastes like a mixed drink, not a medicine
The subtlety in the above means that it allows your gin's botanicals to remain the star in your gin and tonic.
Regatta's Dry Citrus Tonic Water lives up to its name. It's a beautiful combination of bitterness and assertive citrus notes that blend the sweetness of candy with the assertiveness of bitter orange.
Like many flavored tonic waters, Regatta Dry Citrus will overpower sheepish and shy gins— but if you're looking for a flavored tonic in 2019, you're probably pairing it with an aggressive and boldly flavored gin. I love the way this flavored tonic pairs with a juniper-forward London Dry.
The tonic syrup craze has tapered off a bit in the last couple of years— which admittedly has been a bit of a good thing. Some producers were putting in far too much cinchona powder, to the point where drinkers of tonic syrup had to be aware of a new word— cinchonism.
The Colorado-based makers of Timberline have helped turn the syrup industry on its head, addressing three primary concerns. 1) the color. Timberline tonic syrup is clear, so your G&T won't look like a swamp puddle. 2) They use extract instead of the bark; therefore you don't need to worry about telling your doctor about your G&T habit. 3) Among all tonic syrups, Timberline gets it closest, when mixed with seltzer water, to the flavor of a tonic water you bought at the store.
One of 2018's craziest mashups— a soft drink beverage best known for patronizing extreme sports released a soda curiosity whose primary audience is women in the 60 and older age group (seriously).
But Red Bull hit this one out of the park.
By far, it's one of the best bitter lemons on the market today. It's nicely balanced with a combination of lemon sweetness, moderate and clean bitterness. It's hard to see a brand with the reputation that Red Bull does catching on in craft cocktail bars; however, based on merit alone it should be the only bitter lemon behind the bar. That is, if anyone ever orders one.
"Monk Fruit Extract is said to be nearly 200 times sweeter than sugar. So-named because it was widely cultivated by Monks in Southeast Asia as early as the 12th century C.E.— it's come into vogue recently as an alternative sweetener. Especially because Monk Fruit Extract does not affect blood sugar levels. "
I'm not a huge fan of the flavors of many non-sugar sweeteners, but this truly zero-calorie sweetener blew me away. Monk Fruit extract may not taste like sugar, but it tastes good. Mixed with soda water, East End Tonic is an innovative alternative to many of the other offerings available for those who choose (or need to) avoid sugar.
Other Best Tonic, 2019 Awards
Best Supermarket Brand Tonic Water— Endeavour Tonic Water (from New Zealand)
Best Skinny/Low Calorie Tonic Water— Double Dutch Skinny Tonic Water
Most Innovative Release— East End Tonic
Best Ready to Drink (Gin and Tonic)— Finn's Gin and Tonic from Chicago Distilling Co.
Best Ready to Drink (Other)— The Finnish Long Drink from the Finnish Long Drink Company.