Gin Reviews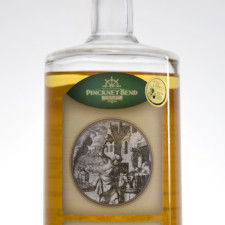 Pinckney Bend Gin is designed around the concept that if each botanical is distilled and crafted individually, a distiller can bring out the best in it. Basket and vapor infusion? Maceration and high heat distillation? It's all about what best expresses the ingredient they're working with. This gin starts as their American Dry Gin before being rested inside used, white oak barrels.
Tasting Notes
The gin is a gorgeous goldenrod hue, shimmering with a bright, almost translucent golden color. Inside the bottle, it's certainly one of the most attractive barrel aged gins I've scene.
The nose shimmers as well, with spice, coriander, hints of vanilla, orange rind, and white peppercorn cracked over creme anglaise sauce.