A couple of months ago, my lovely wife posted a review on this same gin. So if you are interested in her take, please take a look at her post on Maine's Cold River Gin.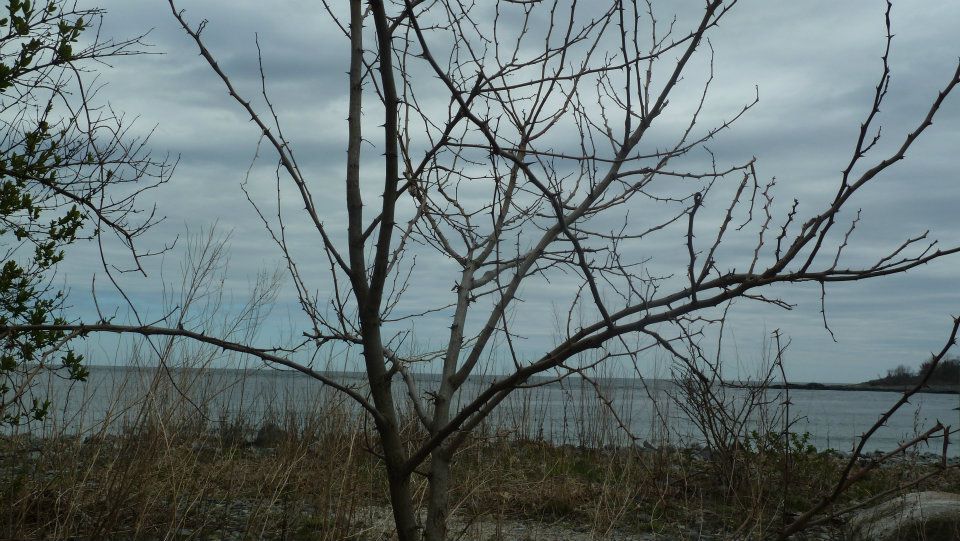 Since I've last written about a gin from Maine, I've had the pleasure of spending some time exploring the beautiful state. In April 2012, my wife and I took the scenic route up the coast (Route 1 and the scenic bypasses) driving through small coastal town after small coastal town. The weather was a hair cool, with a spring wind blowing off the ocean. There were a few people walking the beaches in brightly colored windbreakers; kids flying kites, folks playing fetch with their dogs. Idyllic, peaceful, surely the quiet before the lobster stands open and the crowds of summer return. Although I was disappointed that there was no fresh lobster [yes, I know I was early], I felt like I got to see a little bit of what Maine was all about, in particular Freeport, Maine which is along the oceanic coast. Next time, I want to venture inland, but for now we get to the reason why you're here.
The Cold River Gin Experience
True  to the spirit of Craft Gin, Cold River Gin is handcrafted from fresh Maine-grown potatoes, to the small batch copper pot distilling, this spirit in terms of technique embodies what "craft gin" is all about. Cold River boasts a small number of botanicals which are clearly identified: Juniper, Coriander, Citrus Peel, Orris Root, Angelica and Caradmom. The last one being the most significant departure from the traditional and classic gin profile.
The nose is strikingly close to what one might expect from a London Dry. Fresh and bold, heavy emphasis on the juniper. There's a fair amount of earthiness present too: warm notes or coriander and a faint floral spiciness. Likely due to the cardamom but it doesn't stand out as such. Its very inviting on the nose, though the juniper may be too much for some.
Tasting, the alcohol's potency comes through. Its smooth and almost silky, but it tastes hot with a heavy focus on the strength of the drink. The taste has a nicely balanced. Lemon and Orange from the citrus rinds shine through, complimenting the juniper, which fades into a lingering spicy earthiness. Long after the sip, you can taste faint hints of warm caradmom and fresh juniper. Although the nose hints at something floral, nothing quite floral strikes you upon tasting. The long finish though is extremely pleasant.
As for mixing, Cold River Gin more than holds it own. Its among the best London Dry alternatives that has come from the United States Craft Distilling movement so far. Tanqueray fans looking for a craft alternative should look no further. Nice gin and tonics; it adds a warm juniper note to classics like the Tom Collins or the Aviation. Was not crazy about the way it went with mint in a Southside, but Cold River Gin worked well in nearly every cocktail I threw at it, so I could hardly say that this was a deal breaker.
Martini drinkers will likely appreciate the complexity of Cold River Gin, but may find its rather-bracing-for-a-94-proof-gin heat a little much. It does compliment a good herbaceous vermouth very well, so Its hard for me to not recommend it. Just that it may not for everyone.
Price: $28/ 750mL
Origin: [flag code="US" size="16″ text="no"] Maine, United States
Best consumed:  Makes for a nice gin and tonic and an excellent juniper-forward Aviation
Availability: Availability expanding, easier to find in the Northeast including NYC [full list of availability here]
Website: http://www.mainedistilleries.com/
Rating: Strong appeal for those who want a juniper forward craft gin. Well balanced, lots of complexity, and a worthy addition to the shelf of any gin aficionado.
(3.5/5)
Share This!