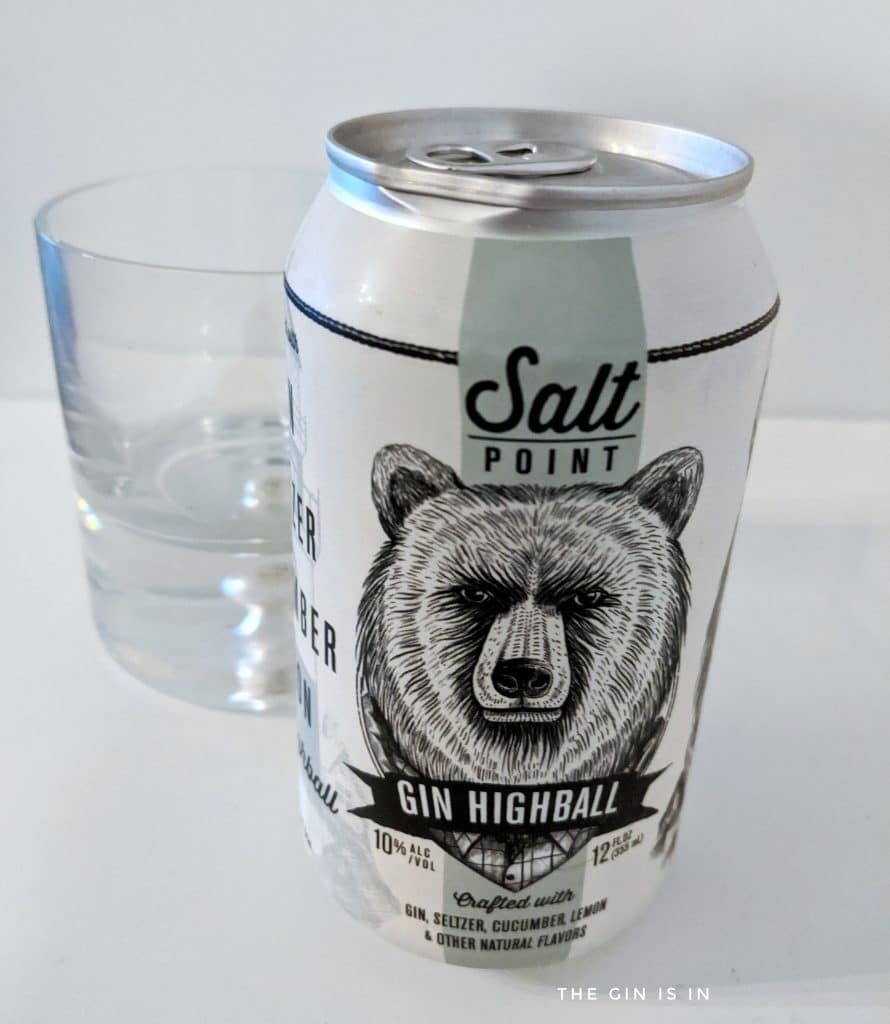 The word Highball is pretty non-descriptive. It can mean almost anything— it's a spirit (in this case gin) and a mixer served over ice. Salt Point Gin Highball may be intended to be served over ice, though the fact it's canned makes it better suited for situations where it can be drank on its own.
Further, Salt Point Gin Highball isn't merely gin + mixer. It includes lemon and cucumber, in addition to gin and seltzer. Salt Point makes a point of the "small batch" and "all-natural ingredients" part of their ready-to-drink cocktails. Perhaps what excites me the most about their cocktails are the ABV. All of the cans in their lineup as of Februrary 2020 are a rather robust twenty proof. I'm expecting to taste the gin in here.
Though founded in Mill Valley, CA, the cocktails themselves are canned in Genevieve, MO.
Tasting Notes
Just by opening the can, there's a fresh aroma of cucumber. Cucumber is a tricky ingredient. No just in gins, but also in cocktails. This one smells nice, bright and rather fresh.
Poured, Salt Point Gin Highball has a robust effervescence. Lots of sizable bubbles are there, and they have a good staying power. Aromatically in a glass, cucumber dominates, but there's a bit more there.
Sipped, the citrus comes out of Salt Point Gin Highball. Sweet Meyer Lemon notes predominate, with a hint of kumquat and red grapes. The cucumber is mild with a clean note. More like a cucumber slice in a glass of water than anything that suggests Martin Miller's, Hendrick's or Rogue Spruce Gin. Further, the cucumber tastes a bit lighter than say the cucumber in Cutwater's Vodka and Cucumber.
In short, this might be the best cucumber I've tasted in a canned cocktail.
Salt Point Gin Highball is moderately sweet. The gin is sadly very dialed down in the mix.
Overall, Salt Point Gin Highball
While I love that Salt Point Gin Highball is a gin highball, the "gin" part of the flavor is the one note that's farthest from the front of mind. You could be forgiven for being mistaken that this was a vodka highball.
But despite that, I do rather quite like this drink. The lemon and cucumber work well together. The flavor is nice. And the 10% ABV means it will warm you up.
While I'd love the gin to be more prominent, this is a good canned cocktail— just a bit underwhelming as a canned gin cocktail.