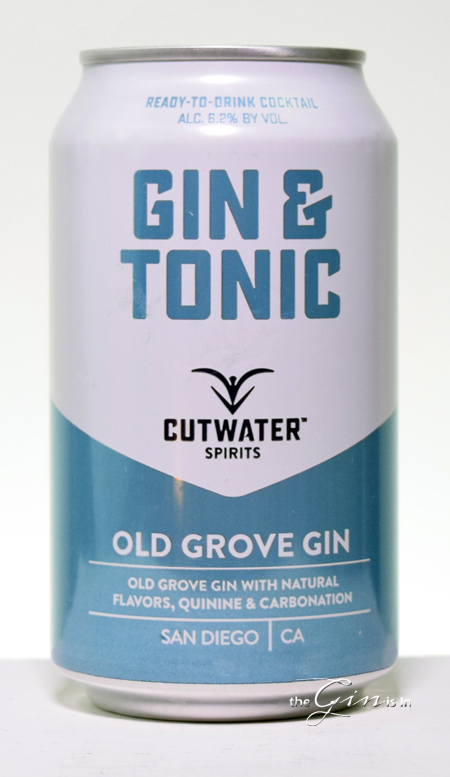 Ready-to-drink gin and tonics while common in other parts of the world are rare in the United States. Which is what makes this offering from Cutwater Spirits so unusual.
Canned in 12 oz./355 mL size, the Gin and Tonic is 6.2% ABV. The ratio is 6:1, with the 1 part being Old Grove Gin and the other 6 parts being "house-made grapefruit cucumber tonic." The can itself is quite attractive, an unlike many European ready-to-drink cocktails in their slimline cans, it will fit right in with the other beers in the cooler.
Tasting Notes
Lots of grapefruit on the nose when you pop the can open. It smells quite sweet, with an almost watermelon candy note.
Cutwater Spirits Gin and Tonic is nice, light, and refreshing when you start to drink it. Cucumber early, a bit of quinine mid-palate, and grapefruit and watermelon notes coming on at the finish. It's cool and long with a touch of bitterness coming on late.
This ready-to-drink can is incredibly easy to drink, and seems almost surprising to me that it's 6.2% ABV. It tastes deceptively mild. At the beach, it would be incredibly easy to kick back quite a few of these. Sometimes as someone who can't drink most beer himself, I'd love to have something like Cutwater Spirits Gin and Tonic to throw in the cooler at the new backyard barbecue.
However, for the gin and tonic fan, the ratio of Cutwater Spirits Gin and Tonic has to be a little unsettling. Whereas most G&T's top out at a 3:1 ratio of tonic to gin (and many places will go with even more gin, at a 2:1), this is 6:1. And unfortunately, it's not surprising that you just don't get much gin. It's the cucumber and grapefruit tonic stealing the show.
In all fairness, this might be a product of the challenge in bottling a drink in the 12oz. can size. It's not as if you can make a canned drink at the 3:1 ratio and have it be an assertive 12.4% ABV. You need to align with expectations, so to their credit, they've bottled their drink at a strength that means it can sit in a cooler and you can pick it up with the expectation that Cutwater Spirits Gin and Tonic is as strong as a can of beer.
Overall
As a picky gin critic, I want more Gin in my Gin and Tonic. However, Cutwater Spirits Gin and Tonic featuring Old Grove Gin makes headway in a category that I think is incredibly underserved in the American market. So although I will make my G&T's to a 2:1 ratio when I'm mixing at my home bar, for the beach and barbecue, when I'm not being a gin critic, this is absolutely perfect.
Those who want a ready made G&T for summer in the states, look no further. Your prayers have been answered. By a pack and throw it in the cooler.