Warner Edwards Harrington Dry Gin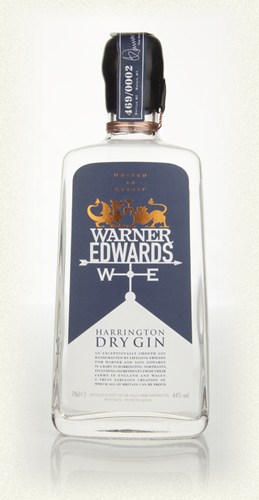 Of all the gins to come out of the UK in the last few years, you'd be hard pressed to find one that's had more accolades bestowed upon it than Warner Edwards Harrington Dry Gin.
Sion Edwards and Tom Warner [hence the name…] met in Agricultural school, are lifelong friends, and they're not distilling gin on the Warner family farm. They consider themselves gin aficionados, so Warner Edwards Gin is a product of love and passion, trial and error. They've written the entire story themselves on their site, so I'd be remiss to paraphrase and re-write it all here. But suffice to say, their agricultural background means that this gin is steeped in all of the philosophies of craft spirits: good high quality ingredients, and good water, are all vital to make a good spirit.
My expectations are high heading in. Let's get down to the tasting notes:
Tasting Notes:
Nose: Citrus and baking spice. Strong hints of cinnamon, nutmeg, coriander, cardamom and a faint hint that calls to mind cola. Quite interesting, and unique. Bright and spicy. The citrus seems squarely to be orange peel.
Palate: Very complex. Juniper, cinnamon, initially. A spicy mid-palate with notes from many things briefly flashing: coriander, black peppercorn, angelica- the finish reveals more juniper and a rich warm coriander, cardamom complimented with a dry and somewhat confounding flavor that vaguely calls to mind chili powder and Garam Masala* like spice- not in heat, but in timbre. The finish is faintly citrus, long and dry with only a touch of heat.
Cocktail-craft
With tonic water, a malty almost Genever like character comes to the forefront. Cinnamon, nutmeg and dry baking spice and a touch of orange. A spiced gin and tonic if there ever was one. Really interesting, with a very muted juniper tone. I get a touch of that Garam Masala note here once again.
The martini was really outstanding however. I found it to be rich and complex in my usual 3:1 ratio. Similar notes to neat, but you get a richer more complex sweetness on the end thanks to the Vermouth. Combined the finish is reminiscent of Thyme and peppercorn, with a hint of cinnamon and pumpkin pie sweetness: ginger and angelica on the finish. Hint of citrus, and a dry finish. Quite nice, complex, and unique. I really recommend this.
Parting Thoughts
Thanks to David for hooking me up with this small sample, which I must say was a bit too small considering two things: 1) the notes were so complex I polished off most of the sample neat just trying to make a determination of what was in there. 2) It's also damn good, and I wish I had a bottle to call my own.
Price: $55/700 mL
Proof: 88
Origin: [flag code="GB" size="16″ text="no"] United Kingdom
Best consumed: Martini stood out to me, but this is a gin with a bold point of view that will be detected in whatever cocktails you put it in. It doesn't taste like every other gin, but it's not supposed to. Until you know how it tastes, stick to warmer, spicier cocktails like Negronis, Rolls Royce, or other Martini variations. It makes a good Aviation, but one that is truly its own. 
Availability: United Kingdom
Rating: Really, a stunning, complex and well made gin by gin-lovers for gin-lovers. It's contemporary, but in a style that we rarely see pushed this far. A good amount of juniper means its sure to not disappoint fans of the classic style as well. I recommend it, but if you're on the fence about spice forward gins, I suggest trying it out at a bar first— because it is quite different.
[Rating:4/5]
*For those who are curious, Garam Masala is an Indian spice powder consisting of cloves, cinnamon, black and white peppercorns, cumin, and an assortment of cardamom pods.
Readers' Reviews
Thanks for submitting! Your review will be posted shortly.