Flavor Profile
Vilnius Gin is among a rare and small number of gins which have been afforded a status of "Geographical Protection." Plymouth used to have one. Gin de Mahon still has one. Vilnius Gin, from Lithuania is the other.
In order to be afforded this protection, the producers of the spirit must create a "technical file" where they explicitly and thoroughly describe the exact process through which the drink is made. In other words— we have rare insight into what exactly is in Vilnius Gin.
Vilnius Gin is produced from locally grown, Lithuanian rye, wheat and triticale (a hybrid of rye and wheat). The botanical part is fairly traditional: juniper, dill seed, orange peels and coriander. The orange is explicitly defined as Citrus sinesis (L.) osbeck, better known as sweet orange.
Further, the water is highly specific. It must use local water with a hardness that does not exceed 0.36 mmol/L.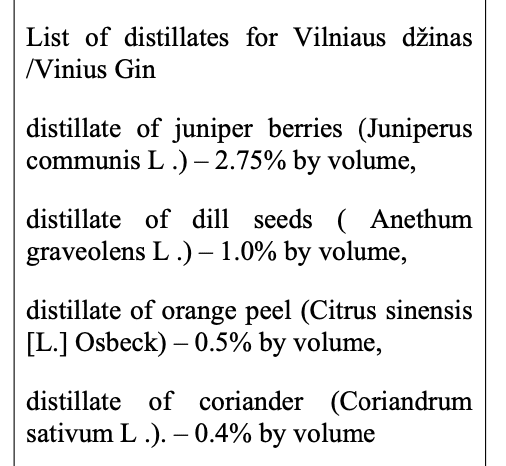 Technical files for drinks afforded privileged statuses are extremely specific.
Perhaps the most interesting note in the technical file is the bold claim that Lithuanians were distilling spirits from grains as early as the 8th century. While that early date is highly speculative— Vilnius Gin is a modern creation, dating back to the 1970's.
Tasting Notes
Aroma: Bright green juniper with hints of bitter orange peel. Very classic and very straightforward.
Flavor: Warming with clear pine forward juniper throughout. It starts with a slight sweetness, easing into a warm second half. Here the orange clearly comes through.
Finish: Moderate in length with a fair amount of warmth. The dill and coriander are present, but not distinct. The overall impression is a nicely balanced gin with hints of baking spice to lend color.
There are descriptions of flavor in these technical files as well. I found the description in this one rather lacking.

Cocktails
Vilnius Gin may be a bit more bracing than other gins. The warmth and heat is perceptible; however, not all that dissimilar from staples like Gordon's Gin. Mixed, little of this comes through. It brings a pleasant punchy juniper and citrus flavor.
It's perfect for mixed drinks. Vilnius Gin seems most at home in a gin and tonic. However, fans of a strong juniper led gin and soda will also enjoy this gin.
In cocktail craft, it can be a bit of two sided sword. The heat makes it a bit more intense than juniper led peers in a Martini. However, that same warmth and classic profile makes it an excellent choice for a Negroni.
Overall, Vilnius Gin
Vilnius Gin is an extremely classic styled gin with plenty of juniper coupled with citrus and spice for balance. It mixes well, but it has some roughness around the edges. Fans of classic gin will find a lot to enjoy here. Fans of more contemporary styles may find Vilnius Gin a touch hot, almost to the point of cliche.
Vilnius Gin is a well made example of a regionally produced everyday gin, that while it doesn't do anything truly unique, it hits all of the marks— especially the juniper.
Special Thanks…
Special thanks to GIN is IN reader Garrett who was so kind as to share a bottle with me that he brought back from Lithuania.
Awards