Flavor Profile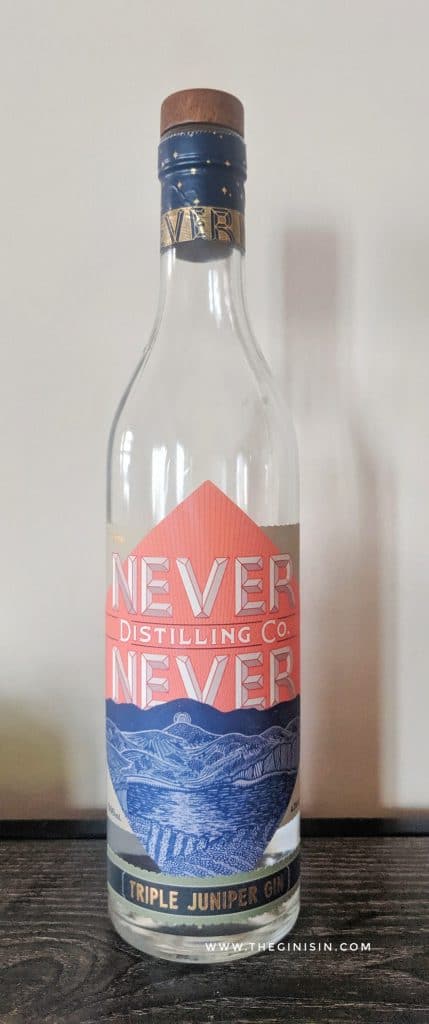 Never Never Distilling Co. boasts "[Triple Juniper Gin]  is a throw back to the times when gin had juniper and lashings of it."
They accomplish this by using three different processes for adding juniper.
Juniper is macerated in the spirit for 24 hours, before being filtered out.
Fresh juniper is added to the spirit that had juniper macerating in it previously. It is then distilled.
Lo and behold! There's more juniper in the vapor basket.
The process is similar to by which Sipsmith does their V.J.O.P. but the resulting gin is stunning nonetheless. Australian juniper lovers rejoice, this is your juniper dream.
Tasting Notes
Pine and angelica root greet you on the nose of Triple Juniper Gin. It's broad, green and terpey. You can almost smell the fresh juniper— branches, boughs and needles.
While Never Never Distilling Co. went all in on the juniper, hints of bitter orange oil lend it a depth and roundness.
Sipped, I'm surprised with the initial entry on the palate. Triple Juniper has an oily, zesty citrus character. Orange and pomelo notes ease the sipper into broad, green juniper. While clear, it's not the only thing happening here. I find there to be a herbaceous lance of angelica with a spit of orris root poking through. Traditional gin notes abound.
The finish is a touch more earthy with angelica coloring the staid durable glow of juniper berry.
Cocktails
Triple Juniper Gin is a beautiful mixer and cocktail gin. The intense juniper stands out in cocktails like the Negroni or White Lady. But it's also a bold juniper mixer for your Gin and Tonic, Gin and Juice or Gin and Ginger.
My favorite hands down is the Martini. The smoothness, the flavor, the warmth and the balance are all there. Even if you go Churchill Martini style (it's okay to just order gin neat these days!) Triple Juniper Gin is an ideal tipple.
Overall, Triple Juniper Gin
Although a bit steep in price, Triple Juniper Gin would be a bartender's gin dream. While Never Never's Southern Strength Gin shoots for being bold in complex gin cocktails, Triple Juniper Gin could be Australia's local answer to all of the centuries old benchmarks for the style. While perhaps more Beefeater-style than Gordon's, it is quintessentially classic.
Highly Recommended. 
Awards