Stovell's Wildcrafted Gin
Price:  £42 / 750 mL
Proof: 84
Distiller: Stovell's
Origin: England, United Kingdom
Availability:U.K. and Master of Malt.
Rating:  Woody and green at first, the flowers literally bloom on the finish with Meadowsweet and Woodruff capturing the imagination. The juniper is not quite the star here, and the unique flavor profile likely makes it a niche spirit rather than a multitasker. But that being said, it's unique in the way that it represents England's botanical heritage in such a thorough manner. It's worth taking a look at just to drink the British Countryside and only the British Countryside. [Rating:2/5]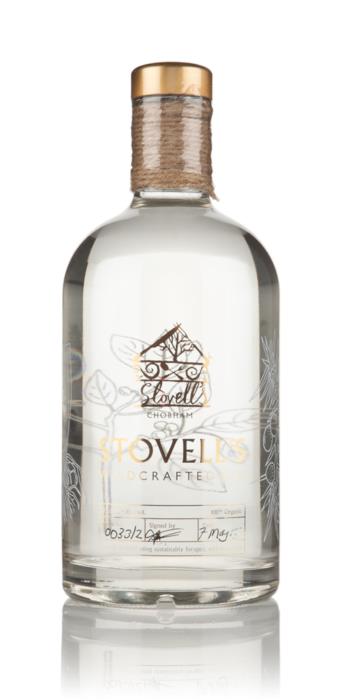 Stovell's is an award winning restaurant in Chobham, England. and their Wildcrafted Eponymous gin is a partnership of bar manager Geyan Surendran and chefs Kristy and Fernando Stovell.
The concept is simple: local, foraged botanicals. A truly local gin. Nothing is in the gin which cannot and does not grow locally. The only exception to their provenance rule is the juniper, which they source from Croatia due to their concern for the local juniper populations, which are still threatened in the UK.
Among the botanicals, couple standout: both angelica root and seed (toasted) are used, as are red efflorescent clover blossoms. It's all distilled at low temperatures and then blended and sweetened with a dash of local honey. They go into a great deal of detail about their methodology on their site, so if you want to learn more, why not hear in their words. Let's get on to the tasting notes.
Impressions
The spirit arouses the olfactory sense with a surprisingly gentle, green scent of juniper. Angelica and green nuance as well; however, it's quite classic and understated at first breath.
The palate is a green garden of herbal notes which start dark and quite arboraceous, before ending with a floral lift. At first, dark green notes, nettle, kale, a little bit of ligneous tree bark. Overall, sylvan and foresty with an enigmatic character. As you stay with it, hints of licorice, and fennel, woodruff, turning subtly sweeter and more literally floral. While I get some creamy notes of Meadowsweet here, I'm lost in a menagerie of green. It's a perplexing spirit that defies convention, but while never seeming quite foreign.
Overall, I have a hard time going one way or the other. On its own, it's interesting. If I had a full sample, I would be keen to put this to work in a line of cocktails, as I think it could go either way. I don't know what direction this woodsy gin might go. But it is unique, and merits a closer look. Though it may be divisive, as they left many non-UK botanicals behind (coriander, citrus, orris), what remains is truly the UK's botanical heritage. And for all of the talk of place, it might be the only gin on the British market that rests solely on the region's environmental heritage, and not its historical heritage.
Readers' Reviews
Thanks for submitting! Your review will be posted shortly.