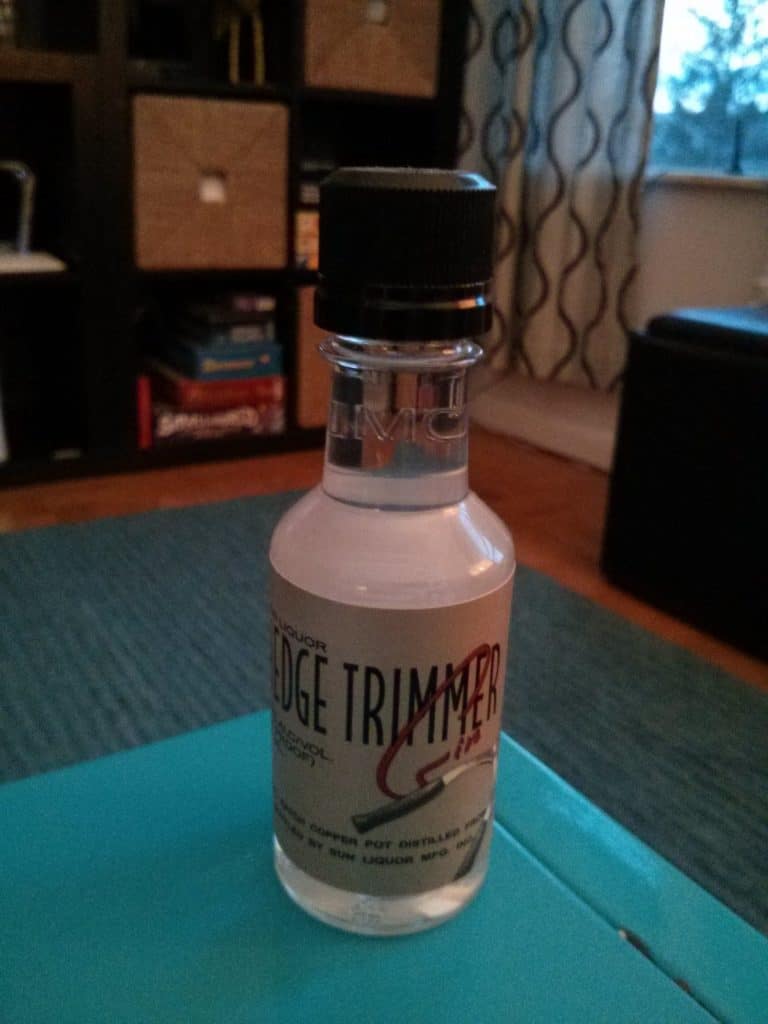 For our next review, we travel back to that distilling hotbed that it is Washington State. This mini I picked up when I was in Seattle for the American Distilling Institute gathering this past spring. I'd heard good things about Sun Liquor Distillery and wanted to try for myself.
In our own < 100 Words
If you haven't heard of Sound Spirits' offerings, you might have seen them– that is if you've ever flown Alaska airlines. Rare is the local product which rises (pun intended) to the level as to be served on a major airline. That aside, Sun Liquor was first a lounge (2006), then a restaurant, bar and distillery (2011), and they've been selling their gin over the counter ever since. Hedgetrimmer is meant to be the more classic of their offerings (let's play word association: Juniper, Pine, Green, Hedge?) and is distilled with neutral grain and nine botanicals, including one oddball: Washington State Cannonball Watermelon Rind.
Tasting Notes
The nose has hibiscus, and green juniper in the high notes, though a more complex side emerges as the spirit has a second to aerate: lemon, ethanol and grains of paradise notes mix, but then fading to a more blank alcohol note on the finish. Very vibrant at first, and very pleasant. Although it fades somewhat quickly, I still give it points for its gentle spin on the traditional nose.
The palate begins shining with juniper again, up front with a fresh, vibrant, and almost forest (but never piney or spruce-like) splash. It evolves revealing a bit more lemon and citrus lift in the mids, with hints of orris and angelica. The mid palate is quite gin like, very classic in profile. The finish is sharp but never hot. Juniper remains constant all the way to the end, but not entirely overbearing and assertive. I'd say it was more "present." The spirit itself is a bit thin, but quite smooth.
I actually found in my notes that I had written "reminds me of Bombay gin ()," and I think that comparison is apt. In both cases, we have a classic styled gin that varies the traditional formula just so slightly as to stand out. That being said, I think it's a great alternative, and I would not hesitate to recommend it to fans of that brand.
Cocktails
As this was a mini, our cocktail-mixing ability was somewhat limited. But we did put it to test in a couple of our favorites. The first cocktail was the Gin and Tonic with syrup. Sadly, I found it to be a little overpowered. More of a shrinking daisy than a bold hedge*. There was the tang, and acidic bite of the syrup up front, and a warm earthiness in the middle. This is where I found the most of the gin reflected; however, the juniper didn't come through as much as hoped.
Based off of my experience with the syrup, I went with the 2:1:1 Negroni** to perhaps give it a bit more chance to shine through. I again detected less of the gin than I would have hoped even at this ratio.
That being said, I really liked the flavor of this gin neat. Although I was less impressed with its mixing in the cocktails I did try, I have to say I might have been a bit too harsh in choosing a couple of very assertive co-stars for the gin Hedgetrimmer has a nice flavor, and one that I think would hold up in drinks like the Martini, Gimlet or other more "gin-forward" cocktails. Though it doesn't have the boldness to shine with assertive complimentary ingredients.
*Is that even a metaphor?
** Spare me your blasphemies, I wanted to bring out the best in the gin.
Vitals
Price: $29/750 mL
Proof: 84
Origin:  [flag code="US" size="16″ text="no"] US
Availability: Washington State and Alaska airlines flights.
Rating: Well made classic gin. Though I'd love a bit more punch, I think it's one of the better classic options at this proof point. If you're on Alaska airlines, order a Gin and Tonic, and I don't think you'll be disappointed. 
[Rating:3.5/5]
Readers' Reviews
Thanks for submitting! Your review will be posted shortly.