Suffering Bastard recipe
1 oz. Gin
1 oz. Brandy or Bourbon
½ oz. Fresh squeezed lime juice
2 dashes of Angostura bitters
Ginger beer (to top).
Shake the two spirits and lime juice together with ice. Strain into a Collins glass over ice. Top with ginger beer. Optionally garnish with a fresh mint sprig.
Gin recommendations
The mixed base of brandy and gin results in a somewhat less gin-forward cocktail. I recommend picking a gin that is strong flavor wise. Think gins that still taste like gin in a Negroni.
Further, citrus is an ideal counterpoint to ginger beer. I recommend looking for a gin like Lind and Lime, Tanqueray Rangpur Lime (it's more orange than lime), or Tinkerman's Citrus forward variation.
I'd suggest avoiding expensive gins in the Suffering Bastard.
Suffering Bastard history
The ridiculous name is probably best understood through the Suffering Bastard's creation story. It was created as a "cure" for a hangover by Joe Scialom of the Shepheard's Hotel in Cairo. One version says that foreign troops were stationed in Cairo during WWII and apparently were drinking heavily and the next morning— required some hangover assistance. The story goes that it was so popular, squadrons would request that the cocktail be delivered to the troops on the front lines.
According to NBC Middle East News Chief Wilson Hall (retold my Blochman in Here's How), who was stationed in Cairo at the time, the cocktail was not originally called the "Suffering Bastard." It was the "Suffering bar-steward", and Joe Scialom invented it for himself. It was only through the mispronunciation by British soldiers that it came to be bastard.
Another version of the story says that some found the word "bastard" offensive, and came to calling it "Bar Steward."
From Lawrence Blochman's Here's How (1957). It includes two additional recipes for rapidly escalating variations on the "Suffering Bastard" that supposedly were also available from Joe's bar. The "Dying Bastard" includes Brandy AND Bourbon. The "Dead Bastard" adds rum to the mix as well.

From Aladar v. Wesendonk's 888 Cocktails (1965).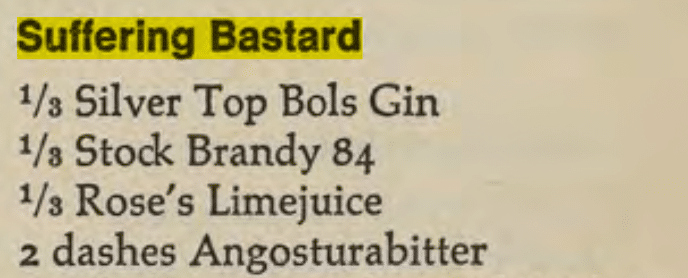 From London Newspaper, The Times, a reader wrote in shortly after the passing of war correspondent Godfrey Talbot (Monday, September 11th, 2000) to share his memories of the cocktail.
While the modern is improved upon by the use of fresh lime juice, the use of preserved lime juice feels more accurate to the setting and time period.
Interestingly enough, the date of invention is often cited as 1942, but this letter suggests it might have been in Joe Scialom's repertoire even before that.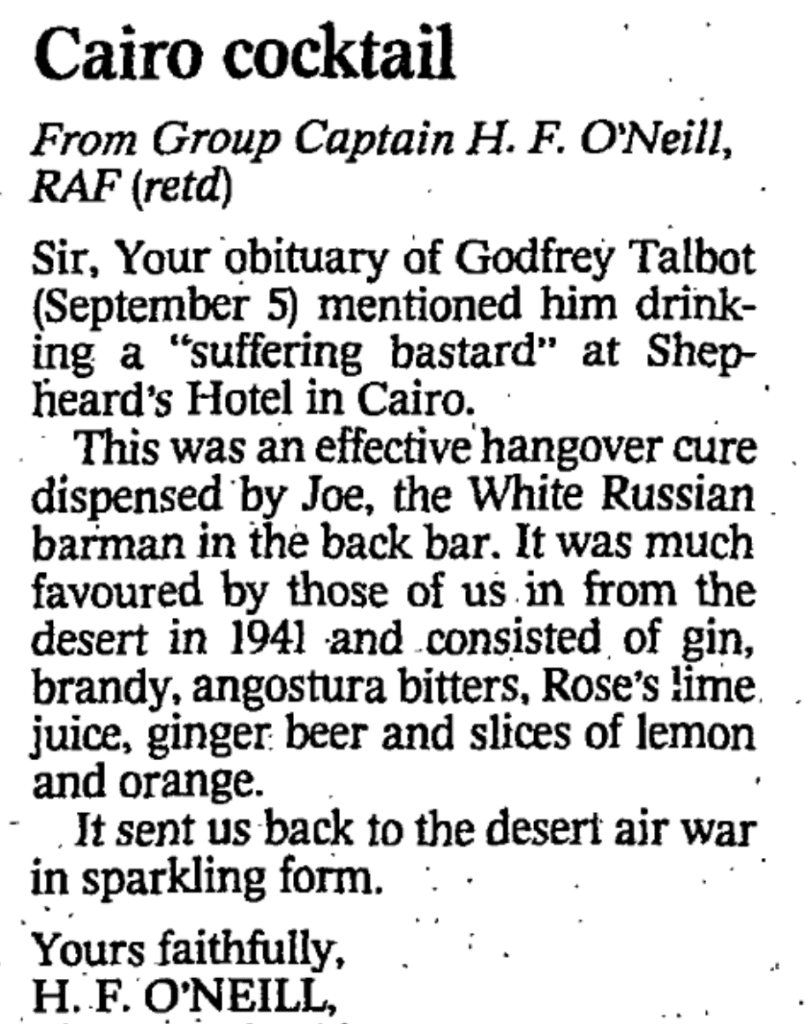 I love that the mere mention of a cocktail inspired a dialogue in The Times Letters to the Editor section in September 2000.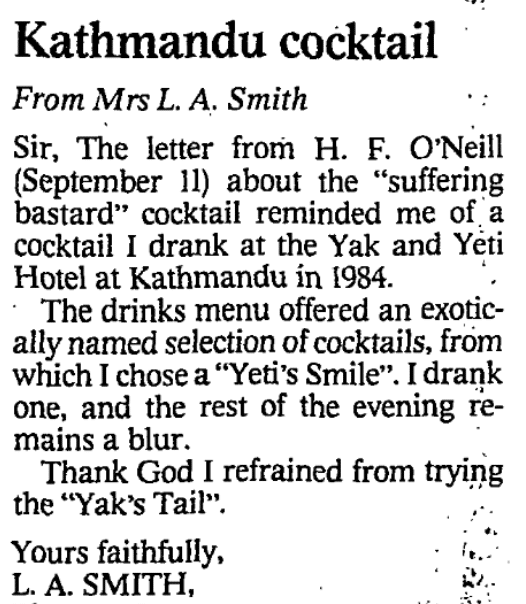 In a completely unrelated way, a cocktail of the same name made its way to the world of Tiki. That cocktail pairs several rums and does not include gin.
Joe's legacy was this cocktail. The contents of his 2004 obituary in the New York Times merely read, "Internationally acclaimed mixologist and creator of the"Suffering Bastard." He will be sorely missed…"