Clover Club Cocktail recipe
1½ oz. gin
¾ oz. fresh squeezed lemon juice
½ oz. Raspberry Liqueur
¼ oz. simple syrup
½ Egg White
To use the whole white, I recommend making this for two. A whole egg white is just too eggy and the flavor begins to contribute to the drink. With half, you're only getting the foam. Secondly, I use a raspberry liqueur here. If you use a tart one like St. George's you need the simple syrup. If it's a more highly sweetened raspberry liqueur, omit the simple syrup and add that ¼ oz. to the raspberry.
You can use raspberry syrup here. I'd recommend dialing the syrup to ½ oz. and adding an extra ¼ oz. of gin. Otherwise, to me— the Clover Club is too sweet.
I omit the dry vermouth; however, some recipes use it to balance the drink, especially when using a syrup instead of a liqueur.
First dry shake the egg white until foamy. Secondly, shake all ingredients without ice with the egg white. Then add ice and shake one final time until chilled. Strain into a chilled coupe.

Gin recommendations
Some early recipes call for Plymouth or Gordon's. Both are stellar options here.
However, few cocktails are so perfect for showcasing a floral gin's flavor profile. Because it doesn't include a floral ingredient, the gin is the star. Try the Clover Club Cocktail with Nolet Silver or a Hibiscus flavored gin. It's brighter, and it adds a lightness that perfectly complements the raspberry. I'd only recommend that you don't choose a sweetened flavored gin here, especially if you're adding simple syrup.
History of the Clover Club Cocktail
The cocktail seemed to have first emerged in the early 1900's. Newspaper publications called the cocktail "new" at the time.
This clipping from the Arts section of a Pittsburgh Press on May 09, 1909 calls specifically for Plymouth Gin. This, as far as I can thus far tell is the first print recipe for the Clover Club Cocktail.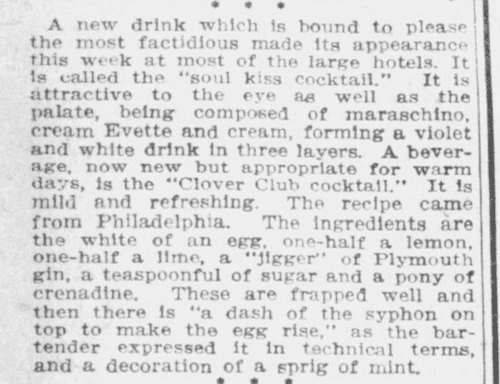 The second edition of Raymond E. Sullivan's The Barkeeper's Manual from 1910 includes a recipe for the Clover Club Cocktail, even calling out a specific brand of gin. This was the first printed recipe for the cocktail in a cocktail book.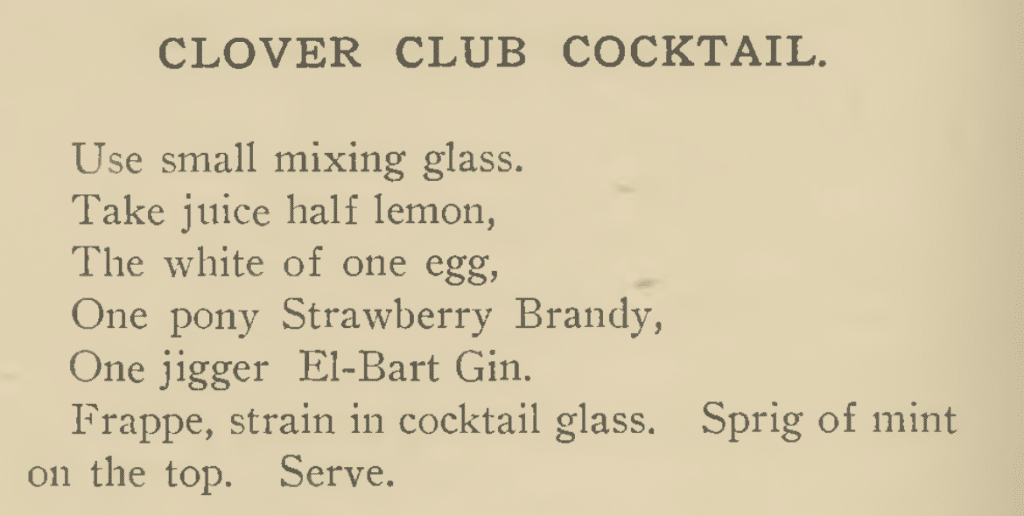 Few cocktails seem to elicit so much commentary in early cocktail books. 1931's Old Waldorf Bar Days comments, while the patrons usually drank Martinis and Manhattans, "the 'Clover Club' had won in New York temples of thirst a wide but short-lived popularity."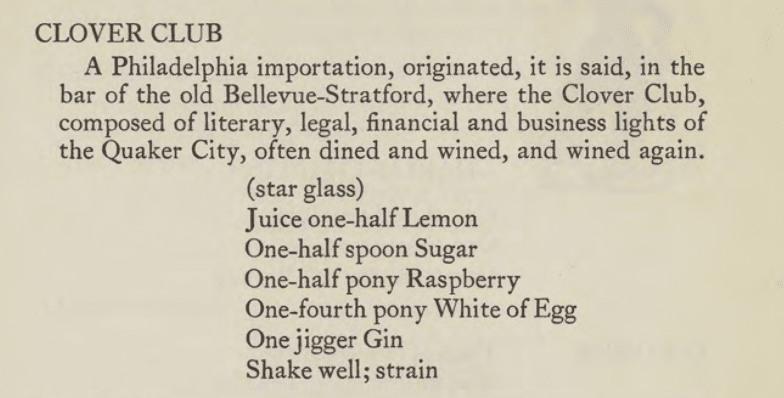 The Home Bartender's Guide and Songbook by Charlie Roe and Jim Schwenck (1930), typified the cocktail as feminine, but strong.

Some apparently did not think too highly of the Clover Club Cocktail.
1939's Gun Club Cocktail Book by Charles Browne excoriated the drink.