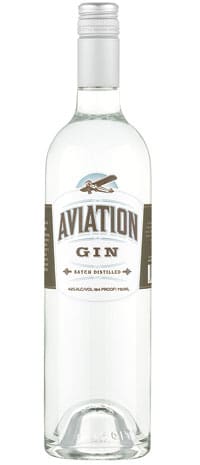 I'm not quite sure what I was expecting when I cracked open the bottle of Aviation gin. The bottle, the name, the styling: it all said "classic, London dry" to me. For those of you in the know already, it's truly one of the new breed of American Dry. It is big and bold, but with the juniper in the background. It's more of the bassist in this band. The citrus and the other flavors are in the front.
I opened the bottle, and was struck by how floral it was. It reminded me of G'vine Floraison; however, upon tasting it was a bit more subtle and balanced, calling to mind the balanced citrus and juniper harmonies in Bluecoat.
As for the botanicals, officially they are listed as:  juniper, cardamom, coriander, lavender, anise, sasparilla and orange peel. Unofficially, orange and juniper are easily detectable while cardamom and sasparilla are nearly undetectable (leave it to the experts, even knowing what I was looking for I wasn't getting sasparilla). The lavender is present when sniffed; however, seems much more subtle in the drink itself. It is made from a 100% neutral rye base, and I can only hope that the fine distillers in Portland can continue unabated by the Nation's rye shortage. The neutral base is exactly that: perfectly neutral (but very smooth) and allows the rest of the botanicals to stand out.
This is a diverse gin, and don't let the strong bouquet fool you. It makes for a stunning Tom Collins, a refreshing gin and tonic, and yes- a classic Aviation. But one thing that raises Aviation gin to the next level is its smoothness and complexity. It is a gin that you can sip neat or on the rocks, and not be left wanting. Its a great gin in martinis all around, but if you're one of those people who would rather look in the direction of France than drink vermouth (I think you're sorely missing out on one of life's finer pleasures by the way) this is one gin that will be able to carry the show for you.
Price: $30-35/750mL
Best consumed: Great for sipping on the rocks and stellar in nearly all cocktails.
Website: http://www.aviationgin.com/
Availability: Fairly common at high end liquor stores, or ones that have a variety of gins. I think its becoming more common on the East Coast.
Rating: Outstanding. a gin that has won its way on to my shelf and may prove to be a favorite going forward.
(4.5/5)
Share This!