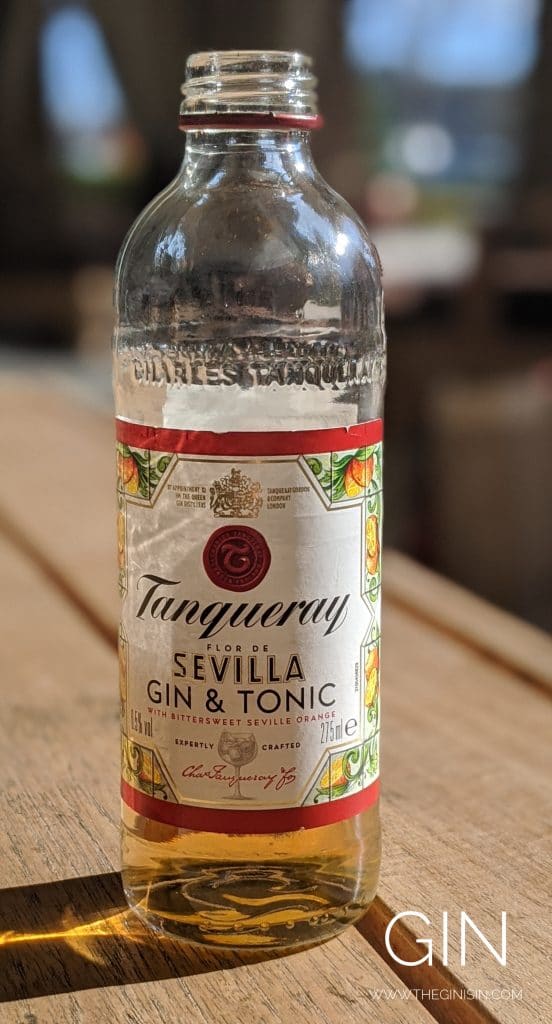 Tanqueray's recent product expansions have embraced the bold, the contemporary, and the flavored. They launched Tanqueray Flor de Sevilla in 2018. Featuring the bitter Seville Orange prominently, the spirit itself played up some of the sweeter and more accessible side of citrus fruit. It stands in stark contrast to other Seville Orange Gins.
However, another sign that the brand is being responsive to the gin community beyond bartenders (who with good cause, still love Tanqueray 10 and appears prominently in mixing programs the world around) is that they also launched Flor de Sevilla in a RTD gin and tonic.
It's incredibly attractive and appears to be shooting for a higher price point in stores. While we're seeing many distillers look to RTD's in cans, the glass bottle is as classy as it is not beach ready (how many beaches do you know that let you bring glass?). The design also invokes a parallelism with Tanqueray's flagship bottle.
Tasting Notes
Tanqueray Flor De Sevilla Gin & Tonic is bottled at 6.5% ABV.
The palate is clean with a nice amount of juniper. True to all of Tanqueray's offerings, they don't stray far from the core botanical. Tanqueray Flor De Sevilla Gin & Tonic is rather sweet however, with the citrus taking on the impression of tangerine, sweet orange and mandarins.
Though I don't doubt that Seville Orange is in here, the bitter orange flavor is subdued and left in the wings up until the finish. At which point, while there is a nice bitter orange note, you're also getting some quinine.
The bitterness is moderate and present. I'd say the quinine is average in terms of its bitterness. Like the moderate effervescence, but love the long finish. The bitterness of the orange and the quinine cuts the cloying sweetness and whets the palate for the next sip.
Overall, Tanqueray Flor De Sevilla Gin & Tonic
While it may be sweeter than some would want from a gin that plays up a bitter orange as its signature botanical, the end result is an accessible citrus flavored RTD.
While I do think the choice of glass is unfortunate, because it does eliminate some of the contexts RTD's are best suited for— the flavor is good and this is worth seeking out if you dig either Tanqueray Flor de Sevilla gin or citrus G&T's, this is worth checking out.