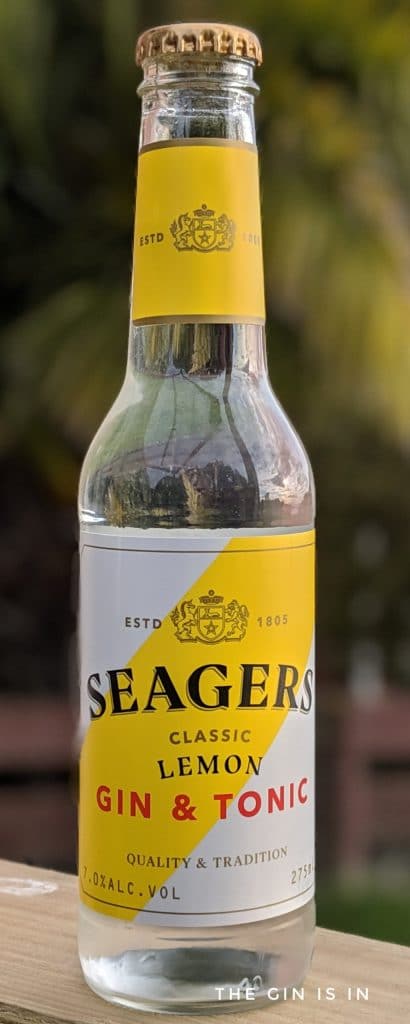 Seager's Gin and Tonic is a ready-to-drink offering made from Seager's Gin, and is available at an affordable price point in Pacific and Oceanic markets.
The full name— Seager's Classic Lemon Gin and Tonic— tells you pretty much the whole story. Lemon flavoring is added to balance and brighten Seager's classic profile. The classic style of the underlying gin comes through. Especially pleasing though is the ABV. At 7.0% the gin is not lose and comes through quite nicely.
Tasting Notes
Juniper and gin is obvious and clear from the nose. Just opening, I get a heavy hit of juniper. Classic gin fans will really like this.
The bubbles are medium to large in size. They don't last too long. Though the initial effervescence is good, it rapidly weakens over time. In this regard it compares rather unfavorably with other RTD's.
The palate is clean with crystal clear juniper, at least at first.
Lemon zest comes on mid-palate and slowly becomes bottled lemon juice. The quinine is subtle. Very subtle. But as an intentional design decision, it means that Seager's Gin and Tonic is much brighter and more citrus-forward than other ready-to-drink gin and tonics.
The finish is short with citrus, then notes of angelica, nutmeg and licorice. Though subtle, their presence really rounds it out— Seager's Classic Lemon Gin and Tonic is classically recognizable as a gin and tonic.
Overall, Seager's Classic Lemon Gin and Tonic
If you like your gin and tonics a little less bitter, Seager's Gin and Tonic is a winner. Really nice balance of added citrus, the underlying gin and the mild bitterness.
Seager's Classic Lemon Gin and Tonic is a crowd pleading RTD at a fair price.
Highly Recommended.