Seagram's Extra Dry Gin has been continuously produced since 1939. For a long time, Seagram's Gin was The American gin. Distilled stateside, to this very day— the spirit itself has undergone a lot of changes.
Once Seagram's was more Ancient— aged for ninety days and bottled with a golden hue. Their Ancient Bottle Gin* was a big seller early in the company's. Over the decades though Seagram's became Extra dry and by the early 2000's was merely "rested" in oak. In 2017, the words rested are gone though Seagram's Extra Dry Gin retains a slight yellow tinge.
To modern gin drinkers and fans of golden age hip-hop, Seagram's Extra Dry Gin holds a special place in their hearts. Before Snoop Dog was selling Tanqueray 10, he was a bit more brand agnostic. He was drinking Seagram's and Juice. Please let me quote from his 1993 masterwork Gin and Juice.
"Now, that, I got me some Seagram's gin
Everybody got they cups, but they ain't chipped in" [source]
Tasting Notes
Citrus on the nose with a bit of angelica mixed in with a dull, pine-forward juniper note. The orange seems to be the sweet on the nose with a peculiar candy like edge, as if a candied orange rind.
On the palate juniper early, candied orange rinds come on strongly in the mids. Seagram's Extra Dry Gin finishes with a good dose of heat and some spice notes. Sweetened Cinnamon Orange tea give it a kind of stewed cider like note.
Finish is predominantly a bit warm, with bitter pure ethanol receding on the edges of the palate and dwelling there.
Cocktails
Seagram's Extra Dry Gin has long traded on its reputation as an affordable mixing gin. It's good with juice. I mean, that would mean Mr. Dogg was correct about its role in a Gin and Juice. It works here.
The candied orange notes make it an inviting mixer for a Gin and Tonic, with somehow against all odds the juniper coming through. A Gin and Soda is another case altogether where I get far more sweet orange rind notes.
Overall, while I don't strongly recommend Seagram's Extra Dry Gin for cocktails like the Martini or Aviation, for straight out mixing it's a good option. It's a "throw in the cooler and take to the beach sort of gin," capable of working with anyone's favorite mixer. Even grapefruit soda, if you're looking for a Finnish Long Drink. But seriously.
Overall
Seagram's Gin has lot a bit of its charm over the years as its shied away from the barrels which initially set it apart. It's sad because in a sense, had it bid its time— it's time would be now. Aged Gin is hotter than ever.
But otherwise it's a capable mixer that has a hard time competing against the plethora of other high quality gin offerings on the market. At its price point, it's not bad; however, these days its hard to recommend.
*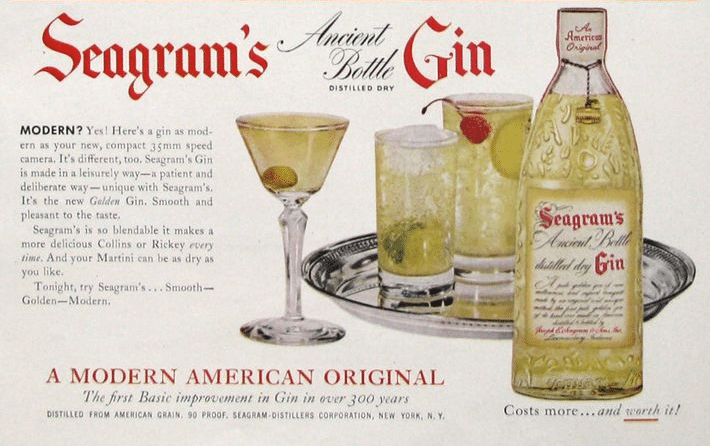 Readers' Reviews
Thanks for submitting! Your review will be posted shortly.
Dec 20, 2018
Seagrams has lost some of it's flair over the years I agree I remember the tint from my early years. What I want to know is what happened to their Distillers Reserve offering, it was a real favorite of mine but dont see it much anymore?
Oct 13, 2018
I just had a G&T poured from the big bottle, and it was getting a bit low. Towards the end of the cocktail, a NASTY bitter taste appeared, one I never tasted before! Strange, but I think I'll stay away from this gin for a while!
Jun 10, 2018
Great value for the price. Nice botanical flavors like London's Tanqueray & Gordon but at half the price.
Apr 18, 2018
It's flat, watery and weak. Had to try it, but my first and last bottle. I like my gin strong and clear. No wonder it's the "well" at many places.
Apr 18, 2018
I think personally it's womderful. I only drink shots no mixing at all. It's kinda Hot but the ending note of citrus is nice. My first time drinking Gin and I have no complaints. Take it what's its worth because I'm a casual 2-3 shot guy and used to prefer tequila until a friend of mine suggest Seagram Gin.
Jul 10, 2017
The reason it's cheap is that they use "essence" of botanicals instead of sweating actual botanicals. How do you know? Check your headache the next day and your level of dehydration. Having said all that ... in some weird way i particularly like Seagrams in a Salty Dog!
Jul 10, 2017
The best gin ever