Rutte Celery Dry Gin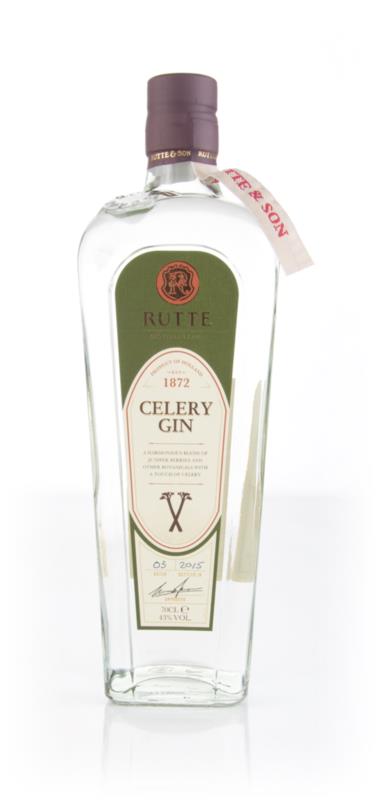 The Rutte Family began distilling genever in the late 18th century and although the family isn't involved anymore (it's part of the DeKupyer family of brands now), their name and tradition lives on. In particular, this gin highlights a novel, but familiar ingredient. Humble celery is one of the signature ingredients behind one of their famous genevers, and this recipe for a gin including celery, is purported to be a 19th century recipe from the distillery's founders.
Marketed as "celery gin," it seems to be looking to capitalize on the trend towards calling contemporary gins "flavored gins" and listing the signature botanical right on the bottle.
This is day 10 of the 2016 Master of Malt Gin Advent Calendar. If you want to join us, we'll be reviewing one gin, every day for the next 14 days leading up to Christmas 2016. Learn More or Buy One yourself.  Now back to your regularly scheduled review.
Tasting Notes
The nose is rather traditional at first glance. Juniper, coriander and angelica with a slight earthiness to it.
However, the palate is rife with green vegetal notes. There's plenty of juniper, sparkling with a green and piney note; celery leaves, lemon zest, and coriander mid palate. The finish becomes a bit denser with rich celery stalk and cracked black pepper. The finish is medium length with a pleasant warmth, pepper and juniper remaining.
The celery notes are quite complementary, and the overall flavor profile is not wildly contemporary. Plenty of juniper and traditional gin spice round the flavor out. I might even suggest that this is a "classic style gin" with a dash of celery. It's not overwhelming, and it's nicely balanced. My only critique as far as flat out taste goes, "might you have been expecting more celery from a celery flavored gin?" Overall, quite nice.
Cocktails
It's absolutely lovely with just a bit of clean, barely sweetened tonic water. In fact this Gin and Tonic reminded me of a faint note of Celery Soda. Recommended.
I also think that the gin's overall smoothness and traditional flavor profile lends itself nicely a Martini with a nice botanically driven Vermouth. I suggest 5:2, don't skimp on the Vermouth. This one works really well.
Overall
It's a lovely celery gin that highlights green vegetal notes from the celery, but never quite forgets that it's a gin first and foremost, and that means juniper is front and center. Interesting and well made, I think fans of classic style gins shouldn't be put off by the name, it has a lot that I think that you'll like in here.
Readers' Reviews
Thanks for submitting! Your review will be posted shortly.