Professor Cornelius Ampleforth's Bathtub Gin [Navy Strength]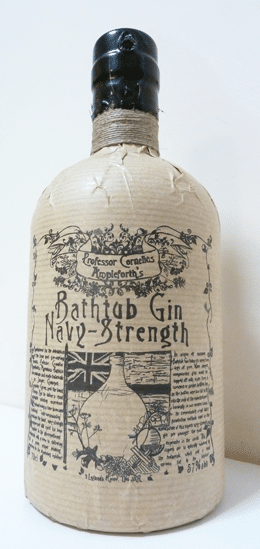 Infusion gins have a sometimes unfair reputation. Talk to someone who's been around spirits for a long time and the notion of an "infused gin" probably conjures up to the notion of an inexpensive "store brand" gin that has been infused with artificial flavors after distillation.
Fortunately this reputation is on the wane and the bar has been raised. For example, Tru2 Organic Gin has a golden hue from fourteen botanicals that been infused to create a bold, herbal, gin. Distilleries like Bendistillery really raised the bar for infusion gins with their excellent Crater Lake Gin. I've rambled about this reputation in the past, so I won't continue here. But along comes the Professor Cornelius Ampleforth line of gins from Master of Malt which in the tradition of "Bathtub Gins", continues to elevate the notion of what a compound gin can be.
Tasting Notes
The nose isn't as strong in terms of alcohol as other Navy Strength Gins. Don't get me wrong, you can tell its perhaps a bit overproof but on nose alone I wouldn't be saying "57%" on guess alone. Lots of citrus, orange is strong. Cinnamon is the next botanical that is rather obvious on the nose. There's some juniper in here too. Compound gins tend to have much more "obvious noses," in the sense that distillation can alter the character of some botanicals. But infusion you're perceiving them much more in the form you're likely to see them on the spice rack. I think that folks not familiar with picking botanicals out of the nose will probably be able to readily recognize a couple in this one. Its vibrant and interesting. It does remind me of Tru2's nose, but perhaps a bit more balance and nuanced.
The flavor is intense and complex, the botanicals mingle together in a furious flurry. I'd have to say, baking spices come to mind first, but then orange, lots of orange. Orange rind and orange oils specifically dominate the middle part of the taste, and that's when the heat starts to build rather intensely. Navy Strength gins are best for mixing rather than sipping neat. This is no exception, there's complexity here.  A complexity which can be opened up with a little bit of water and ponderously sipping. Back to the taste, the finish is mildly acidic with the orange notes giving way to a Chinotto/Myrtle Orange flavor. A little bit of an earthy baking spice tone. Again, cinnamon, but I think that the finish is heavy on the cloves. And the finish is loooooooooong. With a lot of o's in there. You'll be tasting the faint notes of bitter orange and clove long after the sip when you have this neat.  Juniper is faint and prevalent throughout. At no point does the juniper hit you over the head, but also at no point is it tasting wholly un-gin-like. The juniper element is refreshing and as with other compound gins more "vegetable"-like  and a little sharper. All in all, this is a rather complex and interesting gin. The tasting notes are a tad longer than some other gins I've written about.
One of the challenges with some infusion gins is that the flavors are so incredibly strong that they don't quite mesh in cocktails the way you might expect a gin to. One of the challenges with a Navy Strength Gin is that its strength makes it more challenging to drink in very boozy cocktails and excel at elevating the gin character of drinks which are not heavily gin in terms of volume. This gin occupies a paradoxical spot in this spectrum. I thought it created a muddy, confused Tom Collins/Gimlet, and even the Gin and Tonic didn't really stand out to me. I thought the Negroni was excellent, though the martini was dependent on the vermouth. The martini I had tasted confused with Dolin, but I think a more herbal vermouth might be a better accompaniment. Much better than a Martini, might be the Alaska Cocktail.
All in all, I think this is a gin that excels at being sipped neat or with amari. The complex herbs mix well. I think gin aficionados in search of something more herbal or some unique flavors might appreciate the notes it brings to some classics in the cocktail canon, I think that to best appreciate how this gin works in cocktails [and best respects the fact that it is 57% ABV] you might want to look at drinks which make use of Chartreuse, Cynar and Campari. Or, add a drop or two of water and sip it neat as you would an overproof whiskey.
Packaging?
I particularly loved the packaging on this. The brown paper with the string up top. It reminded me of a few of "my favorite things." Now, unfortunately, it didn't open as beautifully [and I still had to cut the wax] as I might have hoped, but in terms of distinctive appearance, there is no doubt that this will stand out in a rather remarkable way in your local liquor store.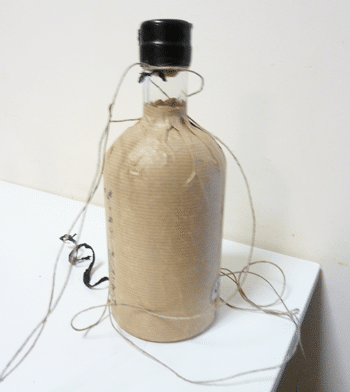 Price: $65/ 750 mL
Origin: [flag code="GB" size="16″ text="no"] United Kingdom
Best consumed: Good Negroni, and mixes nicely with herbal spirits. 
Availability: Master of Malt online, stateside and UK.
Website: http://www.masterofmalt.com
Rating: Interesting and complex, but is a bit confused. Is it a Navy Strength gin that wants to be mixed in cocktails? Or is it a complex gin best served neat? Still, if you like the idea of a complex bathtub gin, but were hoping for something more sophisticated than the other offerings on the market right now, this is the gin you've been looking for. 
[Rating:3/5]
Readers' Reviews
Thanks for submitting! Your review will be posted shortly.