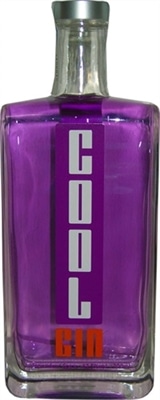 That is NOT colored glass my friends. This gin is actually purple. Not as purple as the bottle is at right. But it is a light pastel violet hue.  Surely unlike any gin that I've ever had in this regard.
Once again, here we are in Spain on the bold frontier of contemporary gin. Surely anything goes and as Cool gin will show, sometimes anything works too.
Notes on drinking Cool Gin:
The nose is floral and sweet. Lots of berry, creamy. Hints of strawberry, blackberry and custard. Very inviting. This is not your grandpa's gin. Heck, the nose makes it seem like it may not be gin at all.
Floral on the tip of the toungue, vanilla and crisp buttery bread, juniper really shines and peaks quite strongly. Berries, ebb and flow, coming in towards the end of the palette with an almost boysenberry note. The finish is a bit heat, definitively aware of the alcohol in this drink, and juniper lingers, Faint jammy note at the end. Wow, this is interesting and bright. Unique and more definitively contemporary than perhaps all but a couple of gins out there right now.
This is a gin made almost specifically for gins and tonics. And it surely doesn't disappoint with a bright, fruity, floral, but also quite gin like character coming through. Great for floral cocktails that have creme de violette in it, as the violet naturally accentuates the bright jammy notes in here without drowning out the juniper. There's some fringes of gin cocktail craft where this drink doesn't work. It clashes with chartreuse, benedictine, some vermouths. Although I think its quite drinkable, it's uses that really showcase it are somewhat limited.
Fans of classic style gin might be turned off by the color and the nose, but they'll at least agree that it's gin once they try it. Fans of contemporary gin, especially Hendrick's, Nolet, and Dorothy Parker which showcase both floral notes and fruity notes will probably love this gin.
This is the kind of gin that if it weren't purple could really blow the door off of gin in the states. A lot of young drinkers who are turned off by gin's sharp notes might be won over by its palatable, inviting, and unique aroma and taste. I think the color is a shame because the novelty and unnatural stigma of bright colored spirits might be a barrier that Cool Gin would have a hard time overcoming.
Needless to say, Summer Fruit Cup had me down to the letter. Gin adventurer and fan of the Aviation? Guilty as charged. 
Price: 31 € / 700mL
Origin: [flag code="ES" size="16″ text="no"] Spain
Best consumed:  Great in gin and tonics, aviations, and a dark horse candidate for excellent martini, especially for people new to gin. 
Availability: Spain
Website: http://coolgin.es/
Rating: Interesting and unique. Jammy, bright, inviting. Although it can't do everything that a good gin should be able to it does enough things and does enough things well that this gin is worth seeking out if you're looking for something that you've never had in gin before. Color aside, this is perhaps the best gin I've had so far for introducing someone new [or something who doesn't like classic gin] to just how different gin can get while still being gin at its heart. Too bad this isn't more widely available. 
[Rating:3.5/5]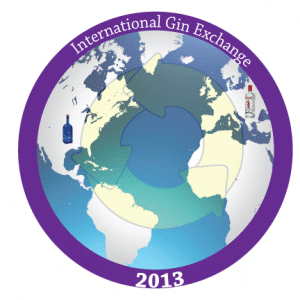 ——————International Gin Exchange 2013———————–
Thanks to David over at Summer Fruit Cup for helping  make this tasting possible. Because the bottles are small sample bottles, this review is not as thorough as my normal gin reviews. There's only enough for some tasting neat and no more than one normal-sized cocktail. Although I do my best to give as full of a review as possible, complete with ratings, the tasting is not as complete as I would normally want to do. If a bottle enters into my possession, I will update this review with more tasting notes, and I reserve the right to update my rating accordingly. 
Readers' Reviews
Thanks for submitting! Your review will be posted shortly.
Nov 11, 2016
Love this gin, got introduced to it by the lemon tree gin bar in frengirola in Spain mixed with normal premium mixer and garnished with blueberry and strawberry, it's amazing, managed to purchase some from the local shop to take home, can't wait to share with my friends back home.