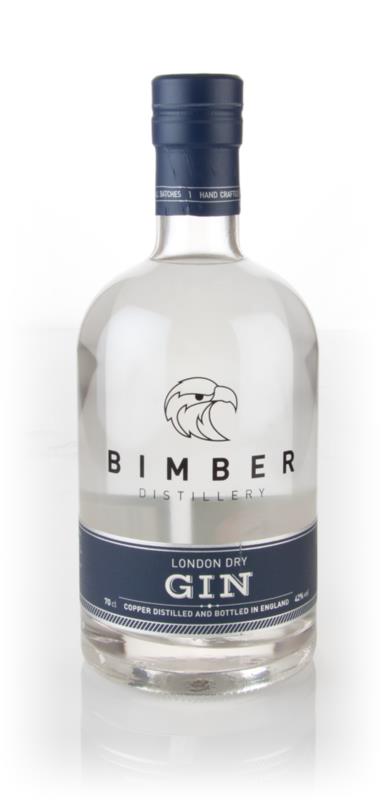 Bimber, Polish. noun. Bootleg. Moonshine. Bushbrandy.
Bimber Distillery might be the new kid on the block in London's burgeoning distillation scene. Their first products hit shelves in early 2016, but their name and perspective is less London and more Kraków. The name itself comes from Polish, and they do a series spirits ranging from their vodkas, to their Single Malt (coming 2019) and their London Dry Gin.
Their gin formula is a bit closer to home however. Beginning with a relatively traditional blend of botanicals, they distill them in copper still with a wheat base spirit.
This is day 16 of the 2016 Master of Malt Gin Advent Calendar. If you want to join us, we'll be reviewing one gin, every day for the next 8 days leading up to Christmas 2016. Learn More or Buy One yourself. Now back to your regularly scheduled review.
Tasting Notes
Relatively quiet nose at first pour, with nutmeg, cinnamon and coriander primarily, peppery pine-led juniper a little more distant.  The peppery quality seems to build over time, becoming a bit more coriander and black peppercorn, and then even more coriander.
The palate starts with coriander, mid palate more earthy, sharp coriander, but a hint of citrus lightens it; towards the finish you get an iota of juniper but more coriander, with that fresh cracked coriander seed note.
The coriander notes last a long time and dominate the finish. Medium length finish with a good deal of warmth.
Overall, very spice forward and reminiscent of some of the coriander-forward gins which were very popular amongst craft distillers stateside in the early 2010's.
Cocktails
The coriander dominated approach shines through in most cocktails you mix with it. A dash of bright fresh citrus amplifies the citrus in a Gin and Tonic and Gin and Soda. I even like the way the extra citrus from a Gimlet or Southside brightens the earthy coriander-forward palate.
I was less a fan of how it went with more floral cocktails, such as the Moonlight Cocktail. I kind of wanted a bit more juniper and a bit less coriander. The focused approach can sometimes be a limiting factor in cocktails and mixing, and certainly here that seems to be true.
Overall
It seems to be in need of just a touch more balance to suit my palate. The spice-forward contemporary approach can work, but I think you might need a little bit more nutmeg or cinnamon in the mix, or even a brighter spice like cardamom to counteract the overwhelming earthy one-note flavor profile that this coriander led gin features.
A spirit such as this will definitely have its fans. I especially recommend this gin to American gin drinkers who like some of the coriander dominated gins, or gins like McCormick. But I think that outside that, it's not traditional enough to appeal to classic gin aficionados and might have a narrow appeal among contemporary gin fans.
Readers' Reviews
Thanks for submitting! Your review will be posted shortly.