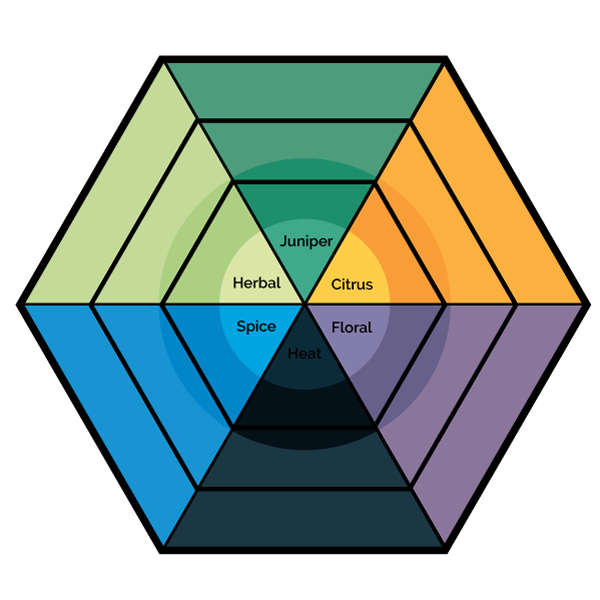 in 2012 I began researching how consumers talked about gin. How they talked about it with bartenders, folks at the liquor store and themselves. This was the beginning of the Gin Flavor Diagram.
The first version of the GIN FLAVOR DIAGRAM was released in 2012 on THE GIN IS IN to help describe the flavor of gins that were being reviewed in the terms that consumers themselves used. In the time since it's released I've continued researching and talking to consumers. In 2016 we added a new category, "herbal" to describe the emerging category of herb-forward gins that were being released.
The big finding was that consumers weren't as motivated by simple ratings or scores— but instead were looking for gins with similar flavors to other gins that they liked. Before the diagram, a consumer going to the store looking for a gin that tasted like Hendrick's or Gordon's would have been baffled. Today, they have the tools to make smarter decisions. And distillers have better tools to release products to meet those needs.
After years of iteration, it's time to set it free. Our GIN FLAVOR DIAGRAM was always intended to help promote gin as a category and foster understanding among distillers, bartenders and consumers. Although we like to think THE GIN IS IN has been no small part of it— in order to realize our initial goals we need to let the community use it as well. That's why as of September 1st, 2018 the GIN FLAVOR DIAGRAM is released under a Creative Commons license.
That's right. Make your own flavor assessments. Put it on your bottle, your website, or in your marketing materials. Use it on your bar menus. Or put it on the shelf at your store to help consumers make gin decisions.
Please consult the legal terms for more details. There are some rights that are necessarily reserved, in order to help the GIN FLAVOR DIAGRAM remain a consistent communication tool. But in general, all of the tools you need are below to help you begin using it in your own work.
Download GIN FLAVOR DIAGRAM resources
All Black and White Graphical Resources [.zip 2.5 mb]
FLAVOR DIAGRAM [.ai format] [.eps format] [.pdf format] [.png format] [.svg format]
Consulting or Expert Assistance is available
TL;DR What you can do
Distillers, producers, bartenders, cocktail program creators, liquor store owners— may all use the Flavor Diagram to describe the flavor of gin or other botanical spirits 

free of charge

.
Distillers, producers and labelers may use the flavor diagram on your gin bottles and marketing materials
You may make your own flavor assessments (i.e. you don't have to use mine)
Its use is not limited to gin— you may use it to describe any spirit you find helpful.
Reach out to me if you're interested or have some ideas not covered here. Ultimately, I want to help the gin community.
TL;DR What you cannot do
You may not modify the categories, shape, or numerical scale of the flavor diagram
You may not append terms to use of any flavor diagram [e.g. it can only be used on spirits meeting certain legal or otherwise criteria]
You may not use the flavor diagram in published works without license [e.g. books, magazine articles, blogs]
You may not rebrand, copyright, or re-license any variation on this flavor diagram.
The flavor diagram may not be used to discriminate, marginalize or divide.