White Lady recipe
1½ oz. gin
¾ oz. Cointreau
¾ oz. fresh squeezed lemon juice.
Shake ingredients with ice and strain into a coupe— or over rocks in a cocktail glass for a longer drink. Garnish with a lemon twist.
Gin recommendations
Let the Cointreau be the citrus star, and pair it with something that offers contrast. I like the White Lady Cocktail with an herbal gin, like Marconi 42, Quench Tank Gin, or a slightly more classic Death's Door Gin.
History of the White Lady Cocktail
Several other cocktails appeared under the name White Lady throughout the first half of the 20th century. For example, Jimmy Late of Ciro's version includes brandy and creme de menthe.
The White Lady as an drink, dates back to the 1920's. Later variations trended away from the original equal parts towards using more gin. Others added egg white creating a "gin sour" with Cointreau.
Buckstone Book of Cocktails, ca. 1925.

English novelist Francis Brett Young has high praise for the White Lady in 1935's So Red the Nose.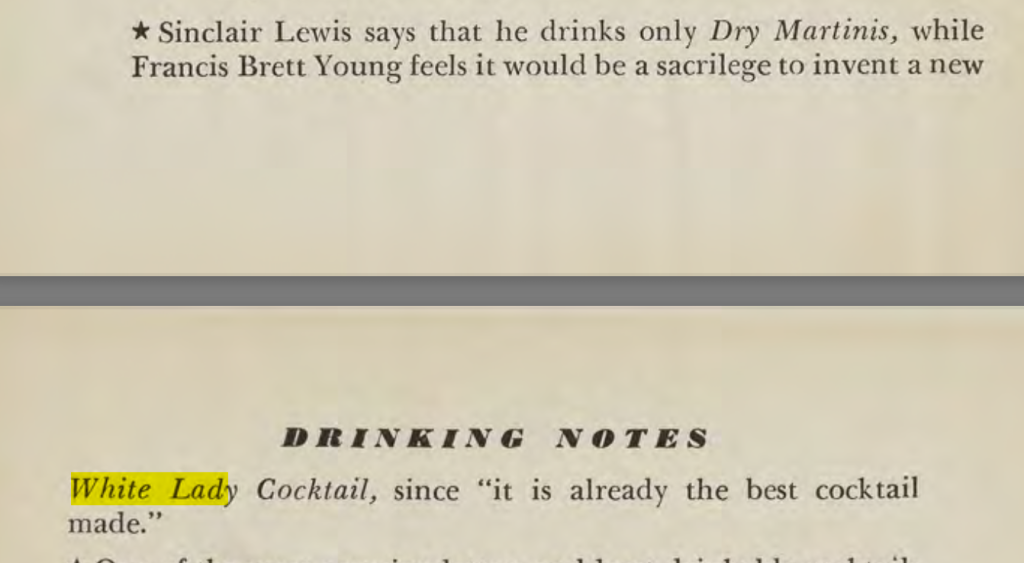 Harry Craddock's Approved Cocktails (1937)