Red Snapper recipe
1½ oz. Navy Strength Gin
4 oz. Tomato Juice
½ oz. Freshly squeezed Lemon Juice
¼ oz. Freshly squeezed lime juice
1 tsp. Tabasco sauce
½ tsp. Worcestershire sauce
2 dashes of Angostura bitters
Shake ingredients together with ice. Strain into a glass. Garnish with a celery stick (leaves on), lime wedge and lemon wedge.
Aaron's note: Some people put a lot of powders/spices on top. Those dry spices don't dissolve in liquid and often just float on the top, creating a gritty mouth feel on that first sip. If you absolutely must, do a spiced rim (similar to a margarita). However, I think a well made Red Snapper is aromatic and well spiced on its own enough to not need it.
Gin recommendations for a Red Snapper
Given that the spirit is rarely the star in this cocktail, I suggest using a Navy Strength Gin to add length and botanical volume. I like using a gin such as Conniption's Navy Strength, with some cucumber notes to enhance the vegetal character of the cocktail. But a good classic like Plymouth's Navy Strength will not go awry.
History of the Red Snapper Cocktail
While often the name "Red Snapper" references a Bloody Mary with gin, the two names have often been interchangably used for the cocktail with both base spirits.
The legend of the cocktail suggests that it was first created as the Blood Mary (with vodka), and later renamed Red Snapper, as to not offend American religious sensibilities. It appears that the division between the two names occurred gradually through the 1960s and 1970s.
Bloody Mary's first appeared on menus in New York City in the 1950's.
Crosby Gaige's Cocktail Guide and Ladies Companion (1941) specifies the "Red Snapper" as a vodka cocktail.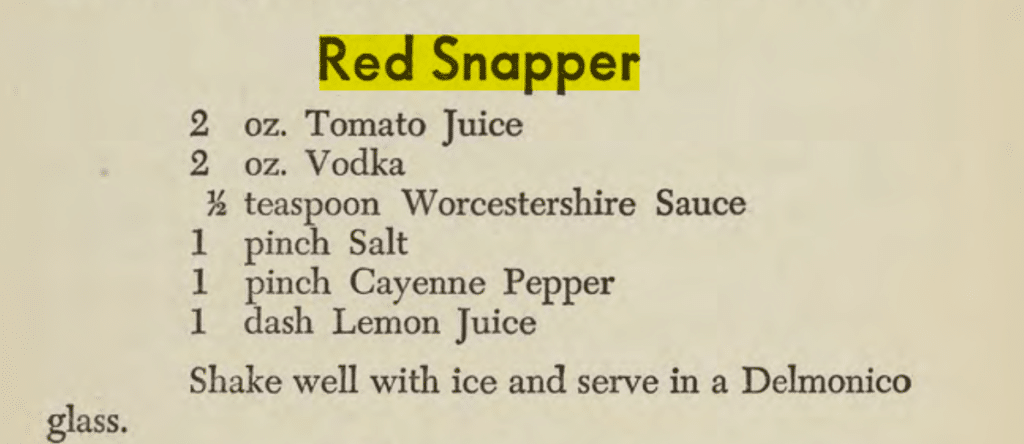 The 1946 edition of Trader Vic's Book of Food and Drinks, tells a story about when he first heard of the drink. Presumably, it was still a vodka drink at this time.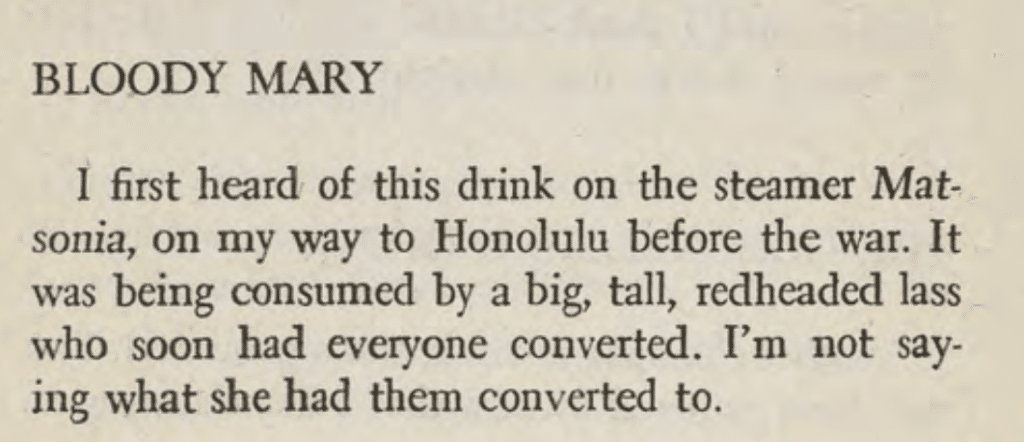 Cocktail and Wine Digest's Barman's Bible (1966) only includes on cocktail under both names. In their 1946 edition, only the "Red Snapper" appeared and it was a vodka drink.

Brian F. Rea's Brian's Booze Guide (1976) is right to the point.

Robyn M. Feller's The Complete Bartender (1990) includes a recipe for both a "Red Snapper" (gin) and "Bloody Mary" (vodka).