Pink Lady recipe
2 oz. gin
3 dashes grenadine
1 egg white.
Use the reverse dry shake technique to maximize the texture. Shake gin, grenadine with ice for thirty seconds. Strain and put into a shaker again, this time with the egg white. Shake vigorously for twenty second. Pour (do not strain!) into a chilled coupe.
Gin Recommendations
The Pink Lady will have a fruity, but ultimately gin-driven flavor. My favorite gins draw inspiration from the superior Clover Club Cocktail and 1929 version that include citrus. Try a citrus driven classic gin like Tanqueray 10 or Plymouth. Or a contemporary citrus-forward gin like Manly Spirits Coastal Citrus Gin or Lochside Summer Gin No. 5.
History of the Pink Lady Cocktail
Similar to the Arsenic and Old Lace, the Pink Lady's origins may be in Broadway— around the time the recipe emerged, the musical Pink Lady had just appeared on Broadway (1911). The cocktail was also known as the "Pink Shimmy" in some parts of the country.
By the 1930's the Pink Lady Cocktail began to better resemble what we know today— a frothy, sweet, gin driven cocktail.
An unusual, but early version of the Pink Lady Cocktail from Drinks by Jacques Straub (1914).

Featured in songbook Drawn From The Wood by Frank Shay (1929).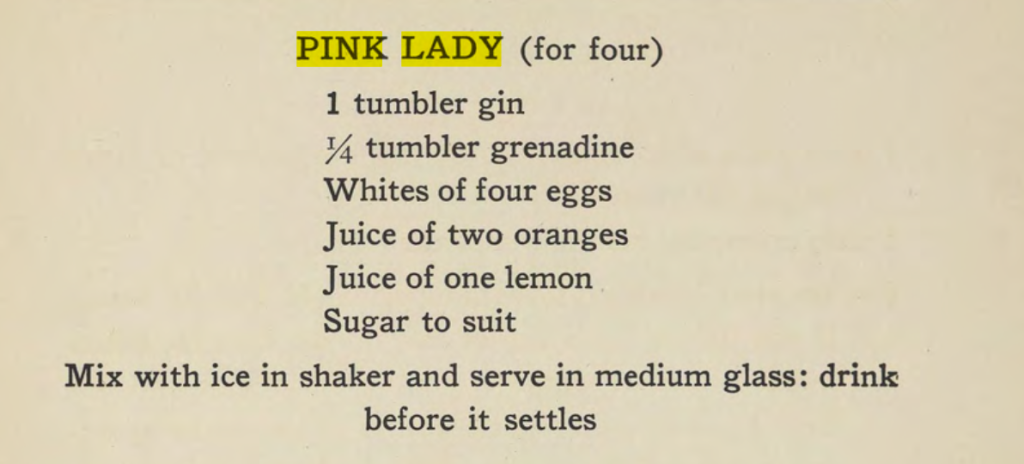 From Approved Cocktails (1935)