Pegu Club Cocktail recipe
1¾ oz. gin
¾ oz. orange curacao
½ oz. fresh squeezed lime juice
2 dashes of Angostura bitters
2 dashes of Angostura orange bitters.
Shake ingredients with ice and strain into a chilled coupe.
Gin recommendations
When Audrey Saunders founded The Pegu Club bar in 2005 the best thing she might have done (other than helping jump start the cocktail renaissance in New York City), was bringing back this beautiful, nearly forgotten cocktail.
This cocktail works well with a wide array of gins. Try a pink peppercorn gin for a spicy, warming winter take on the summer classic. I love the Pegu Club Cocktail with a bright, floral contemporary style gin. Try it with Harahorn Gin, Black Button's Loganberry Gin or Sator Square's American Dry.
Pegu Club Cocktail history
ABC's of Mixing Cocktails (1923)

From the Buckstone Book of Cocktails (1925).

Widely regarded as the cocktail's first appearance in print— from Harry McElhone's Barflies and Cocktails (1927)

The Savoy Cocktail Book (1930)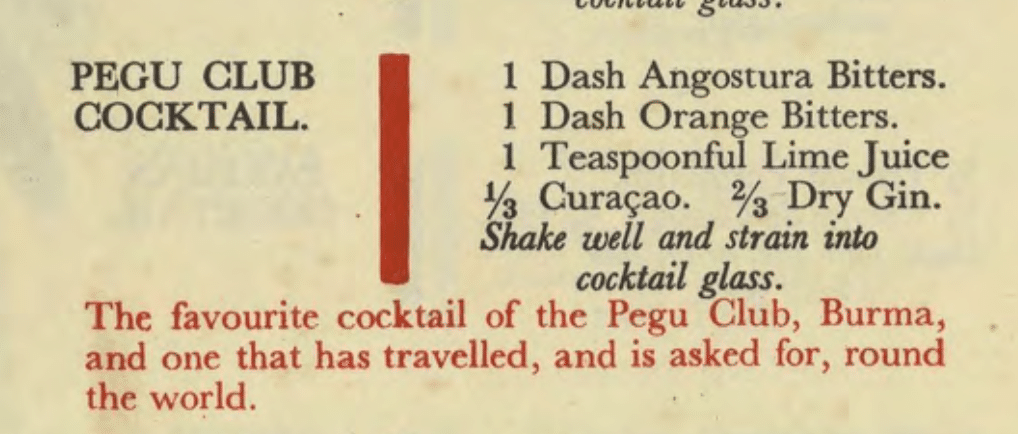 Cafe Royale Cocktail Book (1937).