Gin Pahit recipe
2 oz. aged gin
3 dashes of angostura bitters
2 dashes of Absinthe
The Gin Pahit works well two ways:
Build drink over ice in a rocks glass. Gently stir to combine.
Or combine ingredients with ice, stir and strain into a cocktail glass. Optionally garnish with a lemon twist.
Gin recommendations
The Gin Pahit is a beautiful way to showcase aged gin. I prefer softer, bourbon barrel aged gins in this cocktail. Try Burrough's Reserve or Stonecutter's.
History of Gin Pahit
At its core, the Gin Pahit is a Pink Gin. Its origins are obvious in the name itself. Pahit is the word for bitter in the Malay Language.
It was after World War II that the Gin Pahit began to appear frequently in the sort of cocktail book that claimed a more International perspective.
From Charles H. Baker's The Gentleman's Companion (1946).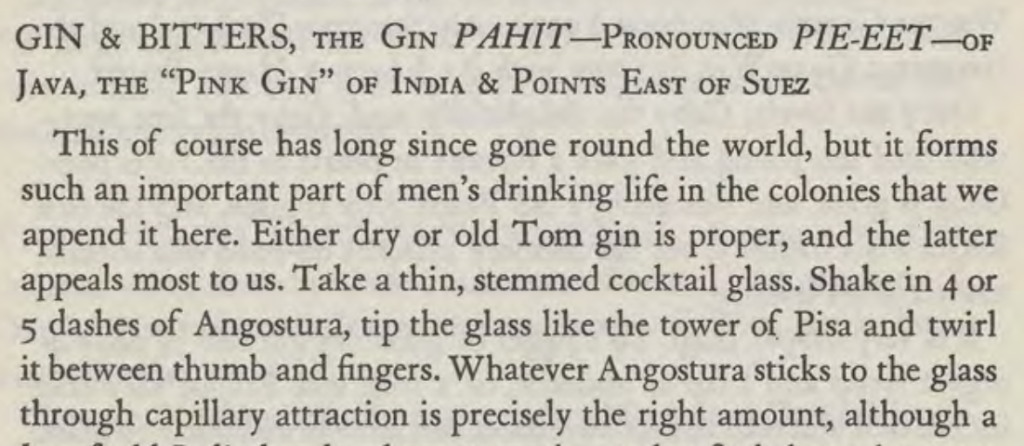 "Another good old British standby, especially in her Far Eastern possessions, is the Gin Pahit […] which is nothing but a Gin Cocktail, sometimes with the addition of absinthe and sometimes without it."— David A Embury in The Fine Art of Mixing Drinks (1948). This is the first and only version in print that specifically calls for an aged gin.

From Ted Shane's Bar Guide (1950). Ted's recipe also features the absinthe.

Lawrence Blochman in Here's How (1957) had strong opinions on the use of Absinthe in his Gin Pahit.