Bronx recipe
1¾ oz. gin
¼ oz. Dry Vermouth
¼ oz. Sweet Vermouth
¾ oz. fresh squeeze tangerine juice
1 dash orange bitters
Shake ingredients with ice. Double strain into a chilled coupe.
Author's Note: Orange juice is traditional, and works well here. However, I found the cocktail much improved by playing with brighter, more vivid citrus juices.
Gin recommendations
The Bronx Cocktail is citrus forward— I recommend either a strong juniper counterpoint, such as Highclere Castle Gin, or a contemporary counterpoint. Think a gin like Hendrick's with a touch of floral and vegetal to contrast against the tangerine juice.
Bronx Cocktail History
Spirits historians remain divided on the precise origin of the Bronx Cocktail, but it's likely to have emerged sometime around the turn of the 20th century.
The Ideal Bartender, Tom Bullock (1917). I presume the slice should be squeezed.

Julian's Recipes by Julian Anderson. (1919). The use of Old Tom suggests this one is based on an earlier recipe— as written, it's far too sweet.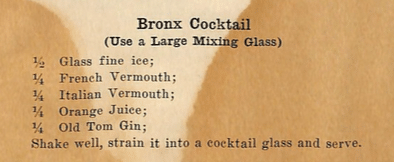 About Town Cocktail Book (1925). The inspiration for me trying it with tangerine.

The Masterly Touch (1934). Sponsored by Canada Dry Gin.