Spirit of York Distillery
Address: 12 Trinity St, Toronto, ON M5A 3C4, Canada
Website: https://spiritofyork.com/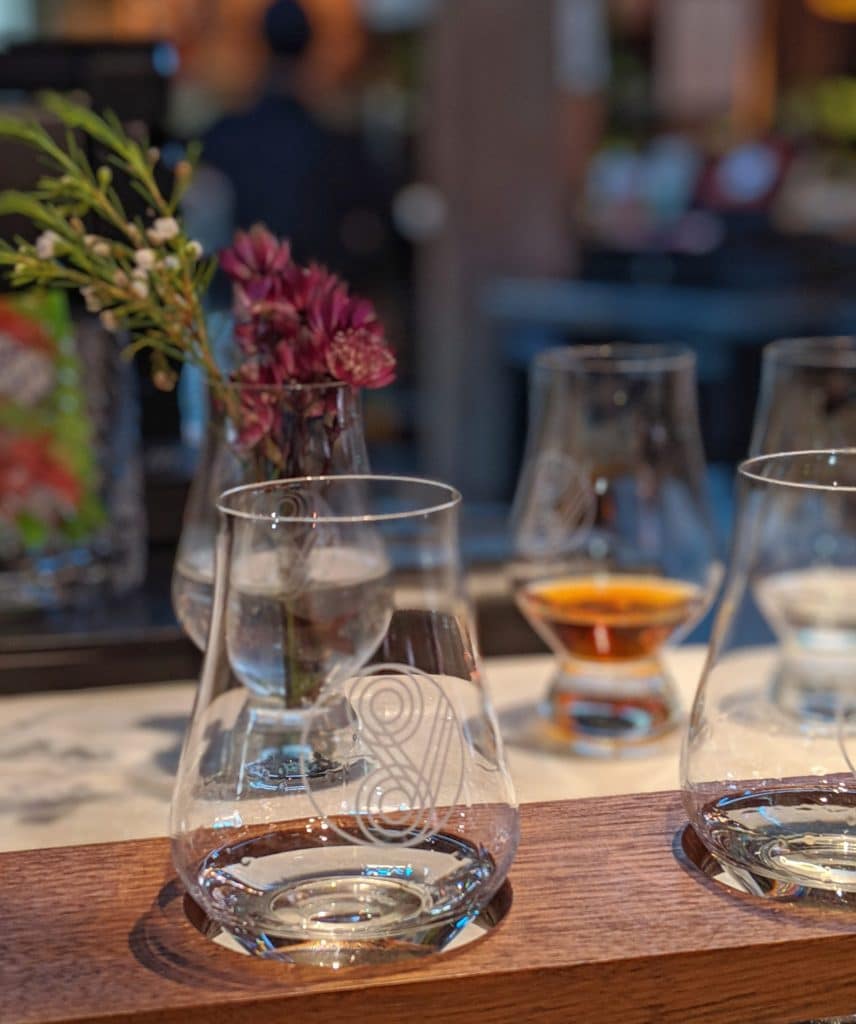 In a meticulously appointed bar area, Spirit of York Distillery showcases their entire lineup, which as of writing includes two kinds of gin, an aquavit, a rye vodka, wheat vodka and a surprisingly balanced young rye.
Their Spirit of York Gin is flanked by their Hawthorn Berry Gin. Both are based on their grain-to-grass rye spirit and both are made into a variety of cocktails at a large circular center bar. Plenty of seating for large groups and for distillery geeks— a beautiful and expansive view of the production area will delight, especially during working hours when you can catch the team hard at work.
À Toi 
Address: 214 King St W, Toronto, ON M5H 3S6, Canada
Website: https://sipshucksip.com
No picture is available out of respect for their "no photography" policy. À Toi is a speakeasy hidden away in the already somewhat swanky, Coffee, Oysters and Champagne bar on King Street,
As for the execution, it's one of the better speakeasy concepts I've seen in sometime. I'll leave out the details for those of you who are new to À Toi— but the real attraction is inside. Their cocktail menu is extensive, creative and although a bit cognac-focused it has several perfectly executed gin cocktails.
Fans of ostentatious garnish and wacky presentations may want to look elsewhere. À Toi does high quality ingredients and expertly made cocktails presented with traditional garnish. Also, the oysters are as good in the back as they are in the front.
Barchef
Address: 472 Queen St W, Toronto, ON M5V 2B2, Canada
Website: https://www.barchef.com/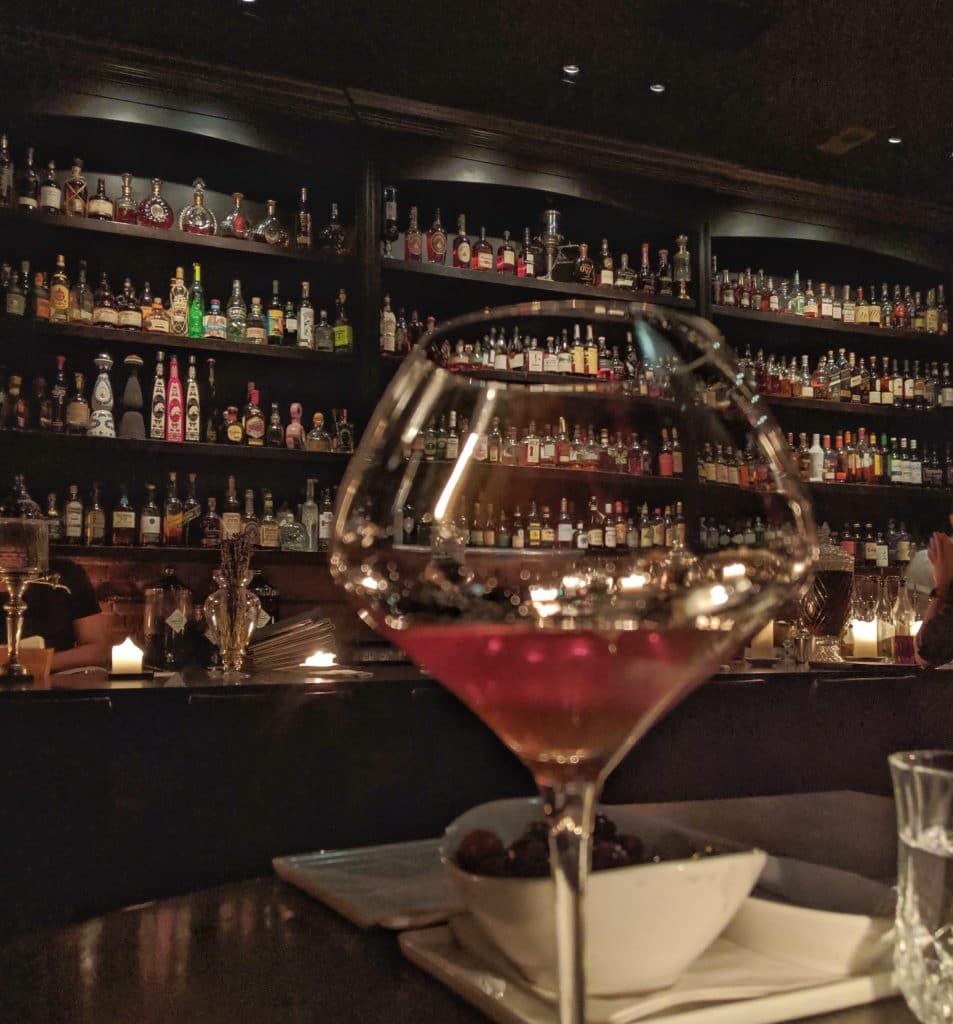 Barchef is elegantly appointed and a perfect evening date spot for quite conversation. Especially if your date likes a wild array of house-infusions, house-made bitters and sharing cocktails presented as pieces of multi-sensory art designed to enrich all of the senses.
The Modernist series of cocktails include descriptions that sound more like perfume than your usual cocktails. Albeit expensive, these are perfect for those looking or an Instagram ready cocktail experience.
The Parfumerie series of cocktails are the perfect balance of unusual and standard-cocktail pricing. Gin fans absolutely must seek out the cocktails with their Spruce Tip Infused Gin— the Evergreen Fields cocktail is a beautiful combination of spice, pine with a splash of Fernet to keep things interesting.
The Cloak Bar
Address: 488 Wellington St W, Toronto, ON M5V 1E9, Canada
Website: http://www.thecloakbar.com/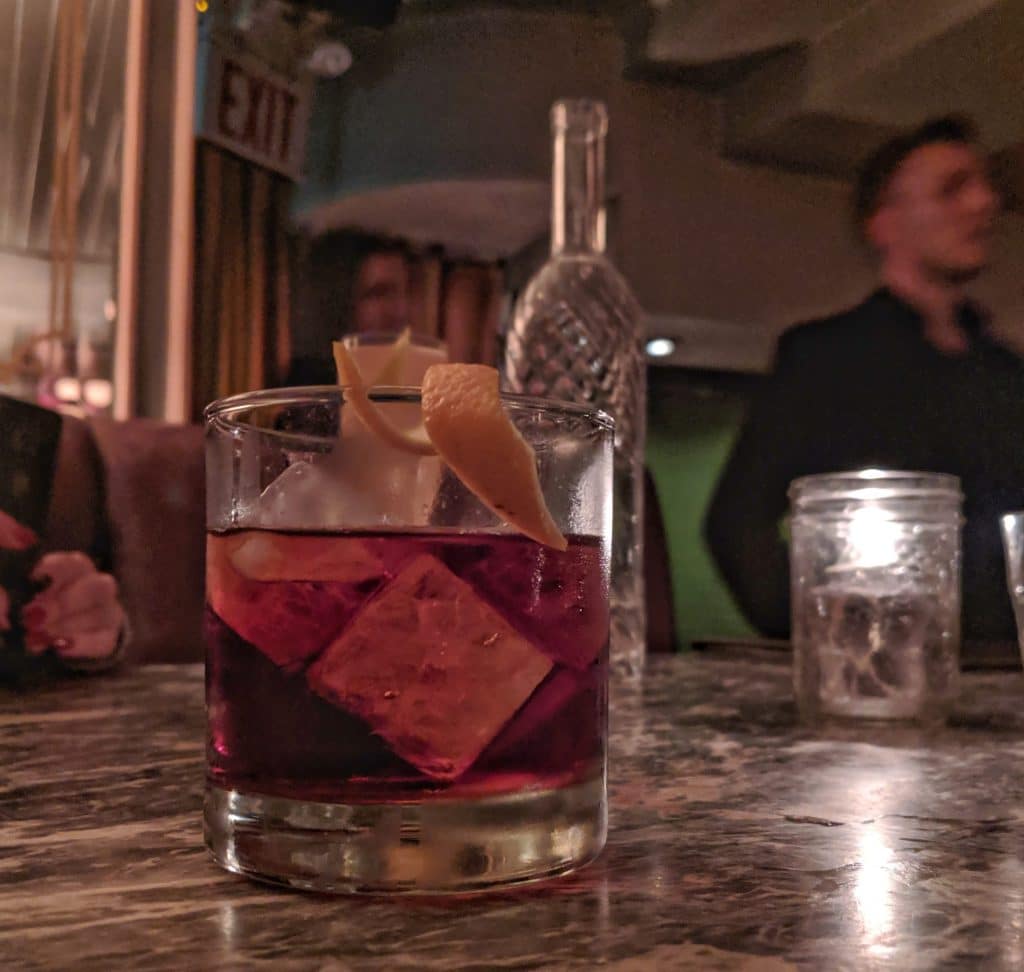 Another speakeasy in a city that seems to love them, the Cloak Bar is a bit brighter and more spacious than some of the others. With a few choice round booths, it's a nice place for small groups.
The highlights, especially for gin fans are some of the great cocktails they make with local spirits. This was the first place I was able to try the local Spirit of York Gin. The Rainy Monday paired gin with sherry, earl grey infused Martini Bianco and a dash of rose hip bitters. It's a beautiful riff on the Martini with a dash of local flavor.
Reid's Distillery
Address: 32 Logan Ave, Toronto, ON M4M 2M8, Canada
Website: https://reidsdistillery.com/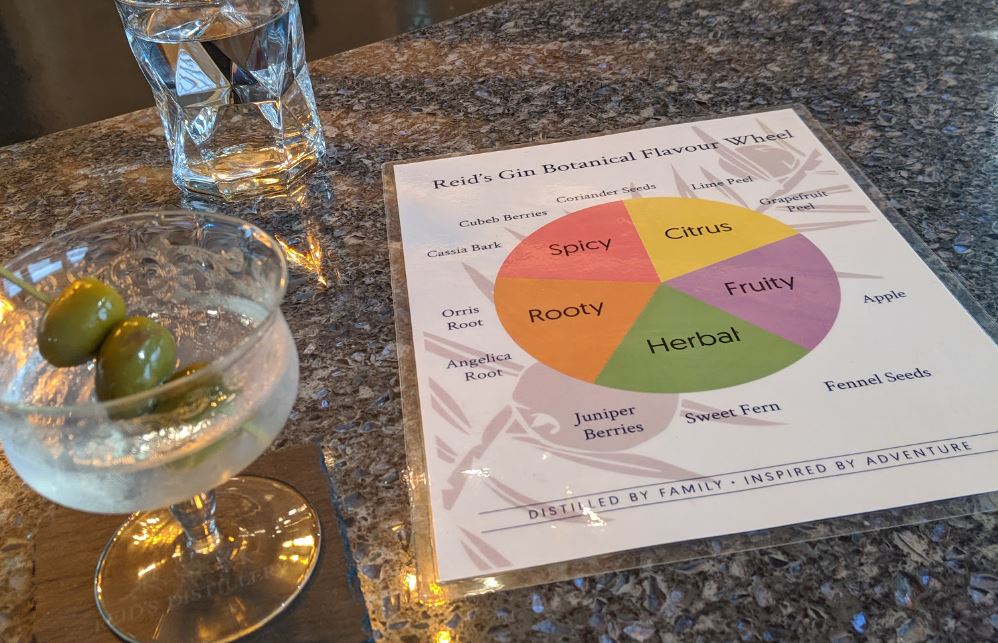 New and somewhat off-the-beaten-path, Reid's Distillery advertises itself on the street with large banners portraying juniper berries. A welcome sign— for sure— to any gin fan.
At the time of writing, Reid's Distillery only makes gin. My Martini was served with a flavor wheel that included some similar categories that fans of this site will be acquainted with, they take it one step further and roughly place the botanicals around the wheel describing what flavors they bring. Local juniper? Yes, partly. Sweet Fern? Yes, they even have some unusual botanicals to explore in their gin.
The space is wide and open with plenty of bar seating and couches far away with great views of the distilling space in the back.