Flavor Profile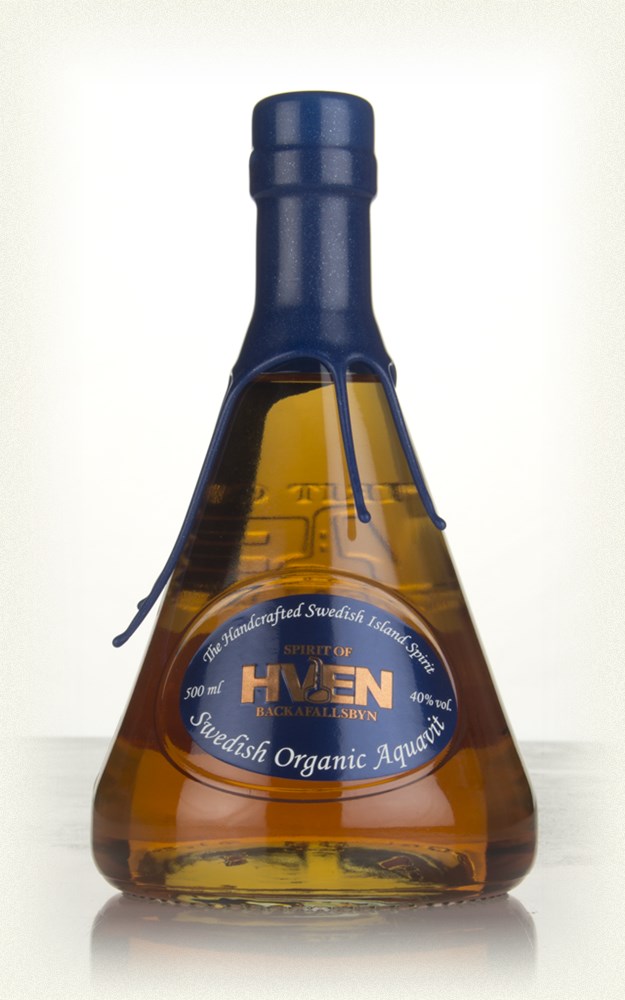 Spirit of Hven Organic Aquavit is distilled from all organic ingredients; however, what might be most unusual about this aquavit is its "double aging." The base spirit is aged in oak before distillation. And then again after distillation.
The distillery is located on the waterway between Sweden and Denmark. Therefore, in some sense Spirit of Hven pays homage to this by borrowing from both the Danish and Swedish traditions in Aquavit. Both dill seed and caraway seed are present.
Finally, Spirit of Hven Organic Aquavit uses a botanical I've never seen in any other botanical spirit— St. John's Wort. The flowering plant has some evidence to suggest it may be an effective short treatment for symptoms of depression.
Tasting Notes
Spirit of Hven Organic Aquavit has a roasty nose. Hints of charred coffee and chicory greet you right away on the nose. The coffee nuance dominates, but there's plenty more behind it. Vanilla combines with the other notes to suggest a latte with burnt espresso. Hints of citrus and other spice in the wings as well. This is a complex aquavit with an unusual nose.
The palate is creamy and unctuous. The mouthfeel is luscious. Lots of vanillin that calls to mind aged gin. Mid-palate there's a surprising amount of citrus. The citrus is soft and creamy. Hints of buttered lemon cake with cinnamon crumble topping. Herbal and spice nuance comes on a bit more towards the late palate.
The finish is exceptionally long with strong suggestions of custard, albeit with a touch of tannic wood notes.
Traditional caraway and dill notes are background characters in this show. Though present if you look, the overall impression might be closer to that of a contemporary-citrus forward gin that has been rested in a barrel.
Overall, Spirit of Hven Organic Aquavit
The barrel is the star of this aquavit. The vanillin and oak notes carry the day.
As for the actual base spirit that went into the barrel, it's hard to tell if it was an aquavit (or gin for that matter). Distinctive aquavit character is lacking. However, the end product is delicious in its own right. Spirit of Hven Organic Aquavit has clear botanical character and nicely balances it with the effects of the aging.
If you know what you're getting, Spirit of Hven Organic Aquavit is a really nice barrel-rested botanical spirit.
Awards