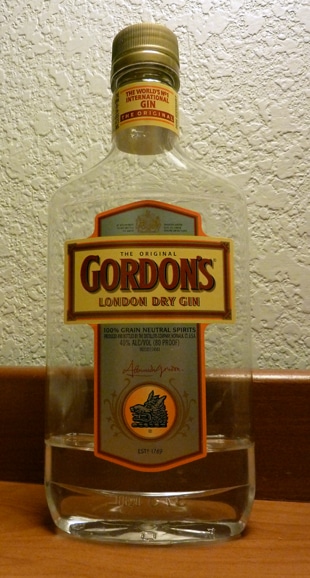 Gordon's Gin hasn't been reviewed yet? The world's best selling brand of gin? It's been around since the late 18th century, so the odds are if you consider yourself a good Victorian or American Transcendentalist, Gordon's was already old enough to be your grandfather.
Odds are you've seen it. And if you've ever sought out cheap gin, you know it.
But I've never reviewed it. So let's take a look at Gordon's. Purportedly the best bargain in gin.
Nose/Taste
The nose is quieter than I remembered it being. Citrus, primarily lemon and a good deal of juniper. Not quite overwhelming, and not off putting. I think it smells exactly as a London Dry Gin should. Good, solid, strong, traditional. Just the way we like it.
The taste is sharp. There's a slight acidic tang, and lots and lots of juniper. Bright, spicy, and a citrus note. Less defined than on the nose, almost like coriander here. The palette dances with lots of juniper. Yes, this would be that "pine trees on fire" taste that some find so unlikable. But classic London Dry drinkers won't find anything with to complain about here. Sharp, bitter note as the gin finished with the dry sensation. Nice.
This is most definitely grandpa's gin as grandpa drank it. Not a lot of depth in terms of flavor, but it does what it does and it does it well.
Mixing
This is where I thought that Gordon's might really shine.
W/Tonic: Juniper comes through. Nice and classic. Predominantly juniper,  but more subtle than expected. Very drinkable, not overbearing in the slightest.
2:1 Martini: Well, I was experimenting a bit – especially given Gordon's reputation for being strong and assertive. But this came out a bit disappointing. The juniper notes were overpowered and Gordon's sulked silently into the night, overpowered by a little dry vermouth. I'd ease up a bit, maybe going 5:1 to taste the gin. But then again, Gordon's is drinkable, but not as smooth as other gins. I'm not sure that I found a sweet spot with Gordon's where the martini has a solid gin like character but also smooth enough. It lacked depth to appreciate in bigger ratios, and it lacked punch in the smaller ratios. I'd recommend looking elsewhere or for a higher strength of Gordon's.
Negroni: Again, decent, but the juniper punch I like in a Negroni is absolutely overwhelmed. If I'm drinking a London Dry Gin [as I like to do] I expect to get that gin like character in the classic cocktails. Sadly, Gordon's just quietly fades into the background without a fight.
Concluding On Gordon's.
Overall, I found myself disappointed. Known as a bargain, I wasn't expecting the smoothness of some more well known and more expensive gins. But I was looking for a bit more punch as a mixing agent. It's more quiet than I remember it being. While it made a decent gin and tonic, it lacked the punch to assert itself in more complex cocktails.
It's London Dry and a great deal. But it's not doing much more for me. If I'm looking for a punchier London Dry Gin and have more than $15 dollars in my pocket, I'd look elsewhere. But in the <$15, bottom shelf category, I think this might be one of the best options there is.
Price: $11/ 750 mL
Origin: [flag code="UK" size="16" text="no"] United Kingdom
Best consumed:  Solid option for a gin and tonic. 
Availability: Worldwide and everywhere, although in differing strengths and in some regions slightly different formulations.
Website: http://www.gordons-gin.co.uk/
Rating: London dry with a punch, until you start mixing with it. If you're going to stick to Gin and Tonics, a great option. But if you want to do some serious mixing, I suggest looking to other London Dry or Classic style gins. 
(2/5)