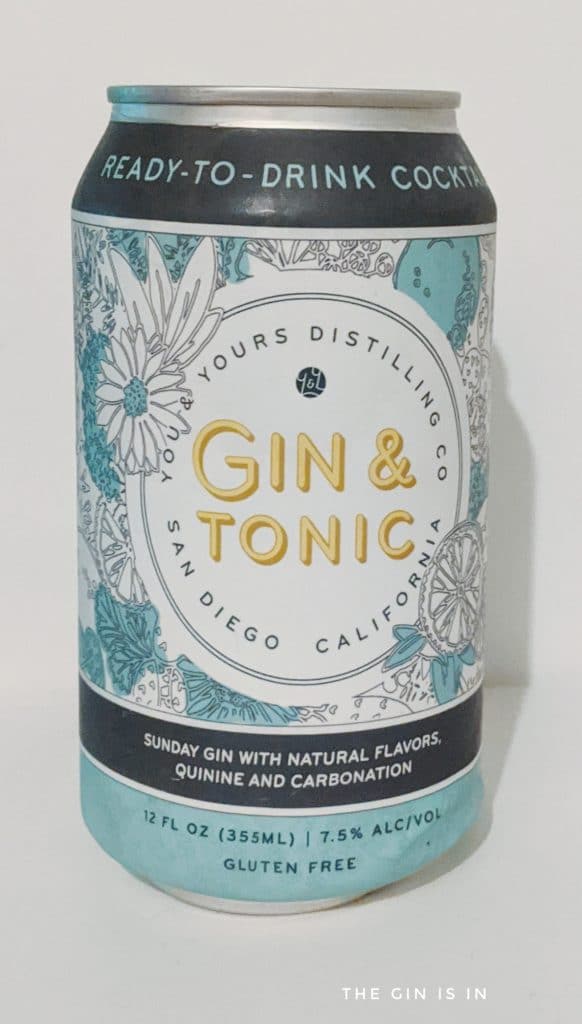 You and Yours Distilling Co. out of San Diego, California create their canned Gin and Tonic from their Sunday Gin, pair it with tonic and bottle it at 7.5% ABV.
We haven't reviewed their Sunday Gin, so we'll paraphrase how they describe it on their site: "modern take on American-style gin…southern California flavors." "Citrus-forward" with rose hips, coriander and fresh mint. [Source]
The label on You and Yours Distilling Co. Gin and Tonic describes the process as "gin and natural flavor"
Tasting Notes
Very quiet on the nose when you open the can. Sipped, it's pleasantly and surprisingly tart.
Pleasant effervescence at first, but it does fade rather quickly. Citrus early with notes of sweet grapefruit. Mid-palate to late has a nice juniper character with piney/herbaceous facets. It's not loud but it's also not hard to find.
The finish is tart with lemon rind and bitter grapefruit pith. It works really well with a pleasant quinine bitterness and a Seville Orange note that sits throughout a rather long finish that unfolds into a mentholic haze.
You and Yours Distilling Co. Gin and Tonic is only on the lighter side of sweet. It's perfect for drinkers who think most canned Gin and Tonics are a tad too sweet, but also for fans of citrus in their G&T.
Overall, You and Yours Distilling Co. Gin and Tonic
I quite enjoyed it. It's a nice balance of tart, sweet, and bitter. You and Yours have done a nice job at balancing out three of the five primary flavors. And honestly? I'm not sure the other two belong in a G&T.
Well done.
recommended in its category. 
(also I dented the can while carrying it home. Would that make You and Yours Distilling Co. Gin and Tonic crushable?)