Sounds Spirits Old Tom Gin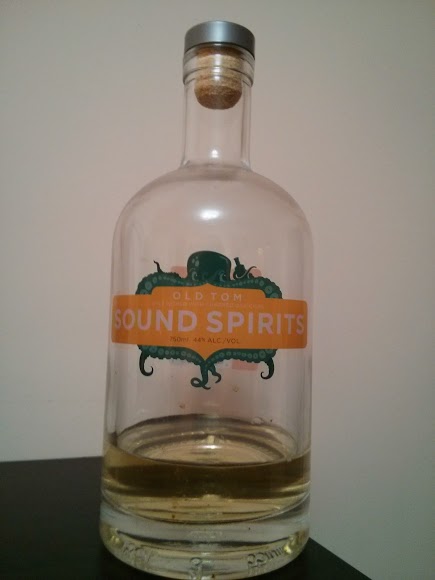 Can you tell by the bottle how long this bottle of gin has been hanging around in my bar? Sometimes a review kind of ends up on the back burner. I at one point wanted to do a series on Old Tom Gins, and look at several in a row: kind of establish a pattern for how you should review an Old Tom Gin and what you should look for. I was going to taste several side by side….
….and eventually intentions get the best of me. I come up with a plan and as I take on several other gin projects, the Old Tom thing never got off the ground. And all the while, while I was not reviewing Old Tom styled gins, I sure was drinking them. So rather than wait for some amazing feature which might be a long time off, I thought I better get this review off before I drink the whole damn bottle right and nary write more than three words about it: "I like this."
The Nose and the Palate of the Sound
The nose is citrusy and sharp, with a slight brightness and lemony touch. Juniper as well, but not too pronounced. Balanced and gin-like, but there's something different about it. Not quite contemporary in style, but something which gives it a hue differing from a standard gin.
The palate is where this really comes into full view: the taste is warm and creamy, vanilla and burnt peaks of a meringue pie. There's a caramel richness in here, rich vanilla ice cream overlying a nuttiness. Creme Brulee? Creme Anglaise over a sharp spice cake? The metaphor clearly seems in the land of desserts, and I find it inviting me back again and again for a sip. There's a rich golden hue, which betrays the aging process. A sweetness which gives away that there's some degree of post-distillation sweetening in here, but at the same time, it's well blended and truly it's own thing: almost transformative. That bright spike of juniper on the back of the palate at the beginning of the finish, the way it gentle fades. There is something magical about this gin. It's flavor is unique and bright. Even among a lineup of other Old Toms, Sound Spirits Old Tom was a breeze for me to pick out. It truly tastes like no other Old Tom I've had. It is really in a class of its own.
Saying that, I was surprised to find myself in a minority of a panel that once taste this style of gin. I will say briefly as that is all that I can disclose: I was shocked. While others make good Old Tom style gins, I think this is head and shoulders above. But I was frankly surprised when others didn't feel the same way….
So although I'm ready to bestow all the accolades deserving of a top of the class gin upon Sound Spirits' Old Tom, there is something in here which may not appeal to  everyone. I'm not exactly sure what the others were reacting to: was the vanilla and caramel sweetness too literal? was the juniper too mild? I think the vanilla is startling and refreshing, and the juniper appropriately restrained. But I will preface all the rest by saying this might be a divisive review. Not everyone agreed with me. But this is my favorite Old Tom I've tasted…
Cocktails?
I thought it made a top notch Tom Collins: creamy lemon merengue pie and rich lemon curd notes. Sweet, but too sweet. Rich and dessert like indulgence. And the Martinez, supremely balanced. If I had to find a parallel I would say: rich Cherry pie, slightly crispy with burnt flake crust only on the very top, with a dollop of rich vanilla ice cream…in the notes that is. The flavor of the drink is quite it's own and supremely constructed. I didn't find a way that I didn't enjoy Sound Spirits Old Tom.
Price: $35/ 750 mL
Proof: 88
Origin: [flag code="US" size="16″ text="no"] Washington, United States
Best consumed: Martinez? Tom Collins? Neat? if you can go wrong, I haven't found it…
Availability: Illinois and Washington
Rating: If I could tell you to buy just one Old Tom Gin, this would be it. 
[Rating:4.5/5]
Readers' Reviews
Thanks for submitting! Your review will be posted shortly.