Piping Rock Mint Flavored Gin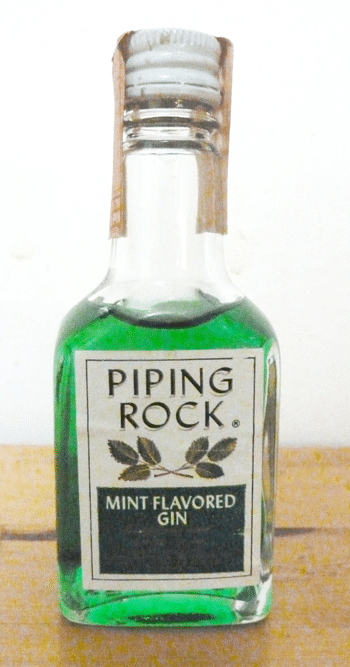 Should you drink the liquor in those quote unquote "collectible" miniature bottles?
The answer seems to generally be "no," due to spoilage, evaporation, and "fear of the unknown." But I am not a collector. I have no aspirations in my life of harboring assortments of things which have no greater use. So when I receive a mini, my question is: can I actually consume this?*
This specific bottle of Piping Rock Mint Flavored Gin seemed an ideal candidate for experimentation. It was well sealed and seemed to have suffered from seemingly little evaporation. It was in a glass bottle and seemed to be only (only!) about thirty-ish years old. I can vouch for the safety of thirty-year old booze, but that's another story altogether.
Tell me a bit about Piping Rock…
Firstly, Piping Rock still exists and still does make gin. Predictably, it is rather inexpensive. Their Sloe Gin is still widely available for a little less than a single Hamilton [and that's for a full 750mL]
The name Piping Rock has been in use as a brand for gin since 1935 (and was registered officially in 1955) by Luxco hailing out of St. Louis Missouri. They have a wide array of brands and names in their portfolio; the Piping Rock name still is mentioned on their website.The Mint Flavored Gin is long gone, but there is still the aforementioned Sloe Gin, Blackberry Brandy, Peach Brandy, Apricot Brandy and Peppermint Schnapps [list here].
and a bit about the actual gin?
The color is nauseating and vivid: a decidedly unearthly shade of green. My immediate thought was that it was the color of Scope.
I swirled it around. No sediment noticable in the poor. On the nose was the strong note of mouthwash(!) once again, not sign of juniper or anything that would even indicate that it might have been a gin. I assumed based on the proof and the overall quality that this was a compound gin and the gin and mint flavors were added to a neutral spirit post-distillation. I expected some of those notes to remain. But whatever juniper there was seems to have long since left this drink.
On the mouth, it tastes like mouthwash. Which I suppose is fitting because I was going to spit anyway. Overall it tastes rather nauseating. Its a strong harsh peppermint flavor (a la Rumple Minze?) and seems to be much harsher than its relatively tame 70 proof would otherwise indicate that it should be.
This review is perhaps not fair, as I am not drinking this gin at the height of its potential or even at a time when it was supposed to be consumed. So I wonder if perhaps this drink had more nuance at some point, or at the very least some juniper flavor.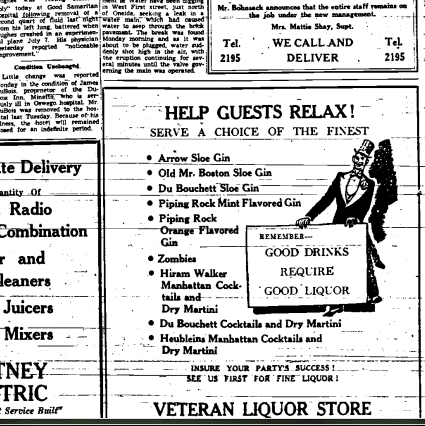 Price: No longer available
Origin: [flag code="US" size="16″ text="no"] Missouri, United States
Best consumed: Not advised.
Availability: It seems that it is only available on Ebay in collections.
Rating: Past its prime, and one of the worst "gin" I've had the fortune to try. Provisional rating only. If this was still made and I could taste it as it was intended, I reserve the right to revise this rating. 
[Rating:0/5]
*The Gin is In is NOT a blog where medical advice is being given or intended to be received. I will let you know that I tasted this as would a wine taster. Sipped, swirled and spit. Just to be on the safe side. If you have to ask I will say every time, do not drink the content of ancient miniatures. 
Readers' Reviews
Thanks for submitting! Your review will be posted shortly.