Price: $35  /750 mL
Proof: 96
Distiller: Stay Tuned Distillery
Origin: Pittsburgh, PA
Availability: Pennsylvania 
Rating: Beautiful botanical expression with a few more nods towards the traditional, it still relies heavily on the licorice/anise flavor profile, so the same caveats for contemporary/classic gin lovers apply here. I'd suggest that Pathogin is a type of gin that you fall in love with because they embody the values of small batch and seasonal variation. It may taste a bit difference from batch to batch, but having tried at least four of their expressions, I can say with certainty that the quality/attention to detail is clear in each, even if they're a bit different. [Rating:3.5/5]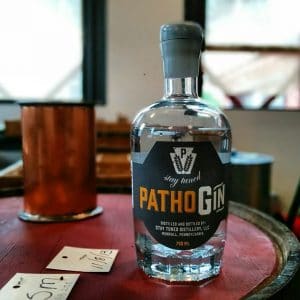 I love the differences between batches, especially when the distillers embrace the seasonal variation and the small batch philosophy. So as a sequel to yesterday's review of Batch 16 (), we're taking a look at Batch 14. There's definitely some difference here:
Impressions
The nose has a good deal more brightness than Batch 16. There's still a lot of licorice here, but a clean lemony, citrus aroma emerges as well, with a touch more juniper. Still a nice warmth and grain based aroma coming through as well. The palate is slightly more traditional, but still spice forward. The beginning is a touch more subtle, with licorice blooming, lemon zest, baking spices and pine-expressed juniper coming through as well. The finish leans towards the world of anise and fennel, but there's a bit more heat! Yes, the difference is quite striking, but it's good on its own merits.
For comparison sake, I think I prefer the botanical expression of Batch 14, but I prefer the warmth/and intensity of expression 16. They're certainly of the same family. But less twins, and more siblings. If Batch 16 is on the football team, Batch 14 plays soccer and does theater. Is that a poor metaphor? (probably)
Readers' Reviews
Thanks for submitting! Your review will be posted shortly.