Where are we today?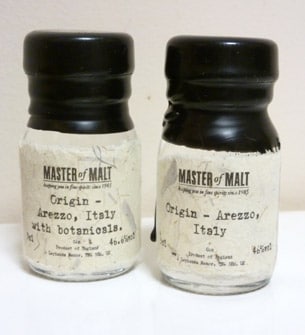 We've been to romantic countrysides and historical villages. For the next stop on the origin tour, we head to a commune of about 100,000 south of Florence.  Arezzo is located in a fertile floodplain on the Arno River, which is among the most important rivers in central Italy. Arezzo has a temperate Mediterranean climate, and for those of you taking notes for trivia nights at your local bar, the University of Oklahoma actually has a branch in Arezzo. According to my notes, this Origin gin is the closest the state of Oklahoma has come to having a gin thus far.
Just the Juniper:
This is what I expected all of the origin juniper-only gins to taste like. Bright, piney, sharp but light. The gin has an almost watery character. Quickly dissipating leaving a long bright juniper after taste in the back of the throat. Significant heat and alcohol lingering, but the juniper sticks around a long time after the initial sip. Bright fresh, but lacking. On its own, its a good example of what the juniper tastes like, but as a gin I find it somewhat lacking.
[Rating:2.5/5]
This it the companion piece to the Origin Italy w/ Botanicals ([icon name="star" class=""][icon name="star" class=""][icon name="star" class=""][icon name="star-half" class=""])
Vitals
Price: £34.95 / 700 mL
Origin: [flag code="GB" size="16″ text="no"] United Kingdom
Juniper Terroir: [flag code="IT" size="16″ text="no"] Arezzo, Italy
Best consumed: Juniper forward enough to bring that "heavy punch" of juniper you want in a cocktail where the juniper in less potent gins can easily be beaten into submission.
Availability: Master of Malt online.
Website:http://www.masterofmalt.com
Rating: Again, What a difference provenance makes. So different from the previous ones, Arezzo's juniper tastes most similar to my "expectation" of what a juniper only gin could taste like. Sure, the juniper alone one could use some balancing, but I think the "with botanicals" mix rights the wrong and makes a pretty solid gin. Certainly not for everyone, again it is interesting how a similar botanical mix can call to mind flavors of ingredients that aren't even on the official botanical list. And that my friends, is the beauty of juniper.
Readers' Reviews
Thanks for submitting! Your review will be posted shortly.