nginious! Summer 2015 Gin
Price:  £50 / 500 mL
ABV: 45%
Distiller: Ulrich Consulting
Origin: Switzerland
Availability: Europe
Rating: Boldly puts all of its eggs in one basket. More fruit notes than pretty much every other gin, the peach and blueberry notes dominate, with juniper in the background. It's floral and will certainly appeal to those that like other floral, fruit-forward gins.  [Rating:2.5/5]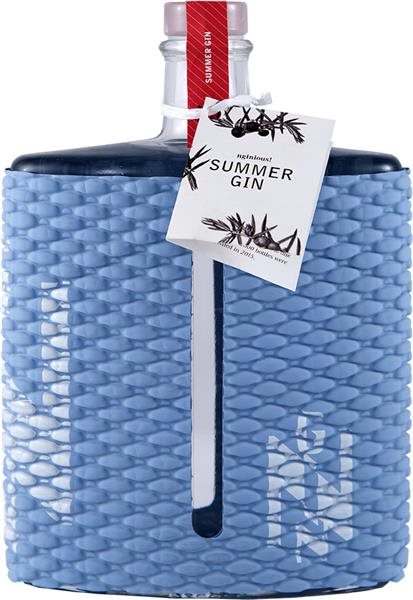 Taking a look at the lineup of Nginious! Gins, the summer one is the most overtly, and most over the top non-traditional. Eschewing much of the standards for a wide assortment of exotic and unusual botanicals: Juniper meets blueberry, peach, lime, jasmine (!!!), white pepper, rhubarb roots and rhubarb stalk.
Jasmine stands out as being particularly notable. Perfumers struggled for centuries to properly harness the flavor of jasmine. The delicate buds did not suffer heat well (it destroys the aromatics for which the buds are so prized!), and perfumers used fat to dissolve the aromatics in a method better known as enfleurage. It basically pressed the flowers between pieces of animal fat, until the fat itself became thick and musky with the rich aroma of jasmine. Jasmine is still incredibly hard to distill, and although not optimal, ethanol can be used as a solvent. Low heat distillation can be used as well, but the yield is low. So in short, the folks at nginious! are trying some challenging botanicals; however, good news here is that the jasmine does not have to stand alone.
Tasting Notes
The nose is stewed fruit, a dash of pine and boysenberry pie. Quite fruity and bright, while some musky floral notes hover a bit lower with blueberry jam and a dash of honeysuckle. Overall, it's fruity and stewed, with warm fruit notes that strike me as a touch more autumnal (pie season?) than summery. But quite lively, and quite non-traditional for sure.
Pine trickles the palate at first, and peach, wow-the peach comes through boldly and is truly a dominant flavor. It starts juicy and rich, like a perfectly ripe summer peach mid-palate, though towards the finish it becomes a bit more peach candy than fresh fruit. A delicate spicy warmth accompanies the back palate, with a lasting warmth and a warm, peachy finish. The long lasting note reminds me faintly of peach cobbler, albeit with some musty, dark notes as well.
Overall, this gin is quite fruit-forward. Berry notes on the nose, and Peach chiefly on the palate, the juniper is a nice complement, but is certainly not the star. It's a somewhat odd mixing gin because of its idiosyncratic flavor combination, but I think that both the Aviation and The Gin and Tonic are worth checking out if you have a bottle.
Readers' Reviews
Thanks for submitting! Your review will be posted shortly.