Price: ~$52 / 700 mL
Origin: [flag code="ES" size="16″ text="no"] Spain
Best consumed:  Great gin and tonic, but leave out the lime. So smooth, you can drink it neat. But make a 7:1 martini with it to really see it at its full potential. Works well in other cocktails, if you up the gin ratio just a tad. Can get lost. 
Availability: Europe, and through Master of Malt.
Website: http://www.ginmare.com/home.php?idioma=en [Warning! It makes noise! on its own. I should start subtracting a point for this kind of late 90's website making. They're lucky their gin is really good]
Rating: Smooth, unique, and memorable. If you like Thyme and Rosemary in your gin, you're going to like this. If you're not a fan of those flavors, stay clear. 
[Rating:4.5/5]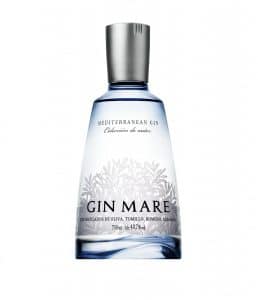 If you asked me, "what is the hottest place for innovation in the gin spirit category," I would obviously reply "The United States." But suppose you asked me, "what would be the next hottest place for innovation in gin?" I wouldn't even hesitate to say it is definitely Spain.
The contemporary gin movement is not limited to the states. It is alive and well on the Iberian peninsula, and as we'll see with Gin Mare, this Mediterranean gin is wholly unlike anything I think I've had thus far.
Tasting Notes
The nose is mild and clean, rosemary immediately visible. Herbal, but not too overpowering. A bit of juniper too. A good contemporary nose, I can tell its gin, but its clearly flashing some of its novel notes.
The taste is pleasing, initially vegetal but smooth throughout. I've had a couple of gins with a strong herbal profile that quickly descend into "broth" or "soup," this remains clear. A bit of rosemary at the front, followed by some orange and juniper. The tail show a brief flash of increased warmth before trailing out with a lingering final note of Thyme. Thyme! My favorite herb. I'm loving this character here that reminds me more of cooking than it does of most spirits. Might this gin make a good accompaniment to a meal? Perhaps even an Italian pasta? Some basil in your gin to compliment the basil on your place?
Interesting and unique.
Mixing is a bit challenging I think. Thyme and lemon go naturally together [one of my favorite home made creations is Thyme lemonade], but that Thyme note doesn't come out too strongly in a mixed cocktail. Its easily overpowered by citrus and strong flavors. So hold that lime before you put it in your gin and tonic. I think the best gin and tonic is an exceptionally clean one like Q here to allow the flavors and natural sweetness of Gin Mare to come through. Exceptionally smooth and makes a good martini, especially if you're going to dial back on the vermouth a bit. Sadly, complex like the Negroni and Aviation [I had to leave it at that because of my limited sample size] I felt just didn't have a whole lot to showcase this gin.
This is a hard review to write, because the flavor? I love it. But it just doesn't stand out as strongly as you might hope. Could a further batch dial up the herbs a bit more? Perhaps, but I honestly believe that might be too much. The subtlety makes it shine. Could a higher proof allow it to have more flavor by volume in your drinks? I think this might be the key.
To make a Tom Collins that works with Gin Mare, double the gin. Its a boozier drink, but the rosemary and thyme really shines through. Garnish with a fresh sprig of basil to heighten the experience.
Overall, Herbs galore. Rosemary, Thyme and Basil are readily noticeable. But what you're going to love about Gin Mare is its smoothness and the way that traditional gin flavors like juniper and citrus still shine. This is a unique and very enjoyable contemporary gin.
International Gin Exchange 2012 (13) >>>
Thanks to David over at Summer Fruit Cup for helping  make this tasting possible. Because the bottles are small sample bottles, this review is not as thorough as my normal gin reviews. There's only enough for some tasting neat and no more than one normal-sized cocktail. Although I do my best to give as full of a review as possible, complete with ratings, the tasting is not as complete as I would normally want to do.
Readers' Reviews
Thanks for submitting! Your review will be posted shortly.