Price:   $10 / 750 mL
Proof: 80
Distiller: Beam Suntory
Origin: recipe is from United Kingdom, though produced in the US under license since 1938
Availability: United States
Rating: A bargain priced gin that delivers a classic profile with some citrus nuance that has remained a favorite for nearly a century. If you're looking for a classic gin for your next party, this is an acceptable option for mixed drinks, though we find that its weaknesses tend to be exposed in cocktails, and in particular cocktails that are heavy on the gin. It gets the job done, and won't break the bank. [Rating:2.5/5]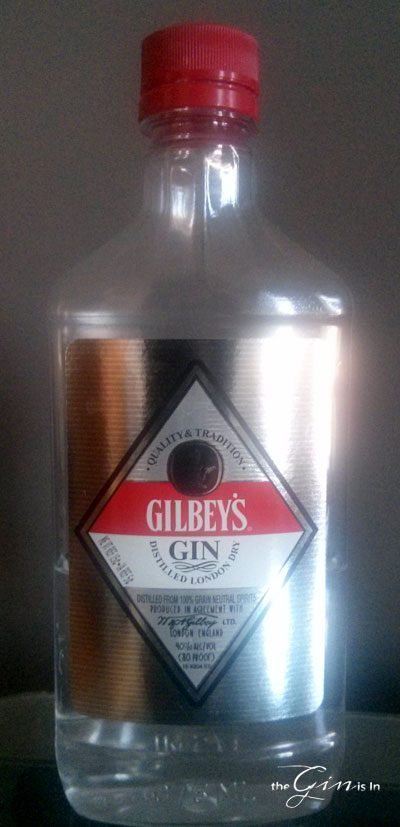 The recipe dates to the 1870s, when the Gilbey brothers, two veterans of the Crimean war, whose successful wine/spirits merchant business had thrived throughout the second half of the 19th century, expanded their business to include the eponymous gin (called Gilbey's since 1895). Distilled from grain neutral spirits, it purportedly contains 12 botanicals. It was so popular that the rights to distill it were sold to the US in the 1930s and it has been distilled domestically since then. Currently the rights are owned by Beam Suntory, and the gin has a reputation for being somewhat… inexpensive. 1.75 L can be found for often less than $20, and the smaller sizes can be had for just a few bucks, often appearing in plastic bottles.
But let us not judge a book by its cover. How is the gin?
Tasting Notes
The nose is classic with plenty of juniper, with orange zest and angelica present as well. The lower notes have the bright, sappy, angelica still accompanied by the orange. The nose is simple, but familiar and inviting. I don't think I would guess the price by the nose. It's fresh and generally quite positive.
The palate is assertive and sharp, with lots of classic gin botanicals making an appearance: pine-forward juniper, bitter orange rind, coriander mid-palate— surprisingly obvious for a second and then quickly vanishing from consciousness— the finish is sharply citrus with a mineral-tinged, calciferous/slightly chalky astringency. Quite dry, with a roar of heat that is more expected at this price point.
The finish is moderately long, with that orange/citrus note enduring.
Overall, it mixes quite well, and in cocktails, its harsher side is quelled and restrained. More juniper comes forward in cocktails like the gin and tonic, though its harshness, especially towards the finish is why I might be reluctant to recommend it in a martini. As far as mixed drinks go, for a gin that suits the gin and juice, gin and lemonade or gin and grapefruit soda mindset, this works pretty well. For cocktails, I might look elsewhere. However, it's not without its merit. At the price point, Gilbey's is acceptable and gets the job done. I recommend it for your next house party, I'd suggest looking elsewhere for your next cocktail party.
Readers' Reviews
Thanks for submitting! Your review will be posted shortly.