Fleischmann's Extra Dry Gin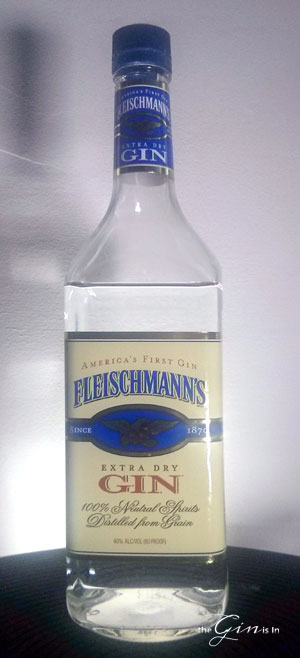 Charles Louis Fleischmann, along with his brother, produced America's first commercial yeast product. He revolutionized baking bread in America. Founded in 1868, the very same plant became home to America first distilled dry gin and vodka. The label proudly declares itself "America's first gin," and why not? Surely our architecture can't compete with the half-a-millennia or older buildings that are routine across England, but its curious that James Burrough's 1876 founding of Beefeater earns him founding father status in gin history, but the Fleischmann brothers are mere footnotes. The gin is as classic, and as old, as many of those, and yet rarely earns a mention in the same breath…
Tasting Notes
Juniper and spicy, dusty coriander on the nose, while an intimation of celery and pine hovers in the background. The palate itself is smooth and rich. It begins quietly, biding its time while juniper builds. Mid-palate, you won't be mistaken for what you're drinking. Dusty coriander again, comes on mid and ushers in the finish. A twist of lemon hovers in the background, and pine-note heavy juniper delivers a crispness and astringency to the finish. The finish does have a slight sweet off-note, faintly of acetone. However, clean and classic, and altogether if served along side other late 19th century gins, it would fit right in with the rest of the bunch.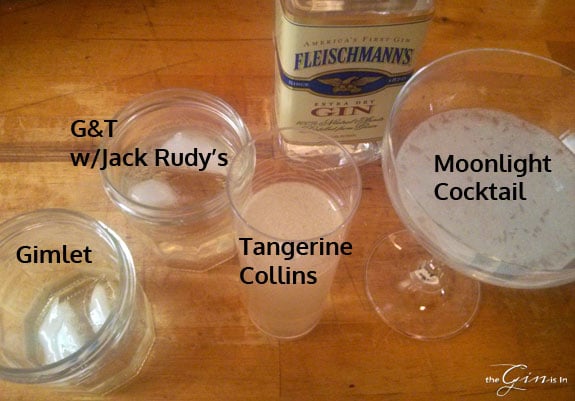 Cocktails
Though mixing seemed a bit of a letdown, because despite the robust flavor profile present when sipped on its own, it was easily overpowered in many of the cocktails we tried it in. Granted, at 40% it's still rather low when held side-by-side with many other gins on the shelves these days, but it easily outweighs the classics available in the UK which are bottled at a measly 37.5%. Have I become a snob? Am I expecting too much from my gin? Sadly, despite a flavor that I would characterize as quite nice, and quintessentially American (could this be the gin which helped cultivate the American gin palate which seems to prefer more coriander than their European gin drinking brothers and sisters?), it doesn't hold up in the quintessentially American art of cocktail craft.
We first tried it in a Moonlight Cocktail. This was the best of the bunch owing to the large proportion of the drink which was gin. Floral and citrusy at first, it was smooth, and the gin brought a coriander and spice backbone to the last third of the palate, offering a badly needed counterpoint. Would have loved a bit more juniper, but overall it was quite good. Recommended.
Next we mixed it up in a Gin and Tonic Syrup with Jack Rudy's Cocktail Co. Tonic Syrup.  The mild flavor profile we thought would be an ideal pairing with this gin, allowing its flavors to shine through; however, it was Jack who stole the show. Gentle spice, ginger, citrus and cinnamon ushered in a smooth and semi-sweet finish, with only a touch of bitterness. Juniper, oh wherefore are thou?
The Gimlet came off as if a slightly-more boozy lime cordial. There was a hint of gin in the lower notes, but overall, I'd recommend dialing up the gin ratio a little more heavily in order to get more through. Despite having exactly the right combination of flavors to balance this drink, Fleischmann's was content fading into the background.
Finally, owing to the end of the winter season, we took a turn in our Tom Collins, replacing the Lemon with Tangerine. So a Tangerine Collins was the drink of choice. There was a nice blending of tangerine and juniper early on, with bright citrus grounded by a bit more pine and coriander. The finish was clean with the highly aromatic top notes of tangerine emerging from down in the mix. A nice drink, but I can't help but wonder if this gin were bottles at 45%, if I might be gushing. Again,dial up the ratio a little above what you might normally do and you'll get a better hit of the gin; but at 40%, I'm left wondering "what might be?"
Vitals
Price: $14/ 750 mL
Proof: 80
Distiller: Fleischmann Distilling Company, Barton Brands, Sazerac Company
Origin: Louisville, KY [founded in Riverside, Ohio]
Availability: Across the US
Rating: For an inexpensive gin, it's actually quite nice. I wish it were bottled at a higher proof so that it mixed better. It's only a couple of tweaks away from being a good gin. For now I have a hard time placing it. The off note on the finish hurts it on its own, and the fact that it's easily overpowered in cocktails (but the off-note is nowhere to be found) leaves me in a touch place. It's better than most inexpensive gins at this price point, though I'd recommend mixing it, dial it up just a touch over where you normally do your gin just to ensure you get the right amount of gin flavor.  [Rating:2.5/5]
Readers' Reviews
Thanks for submitting! Your review will be posted shortly.