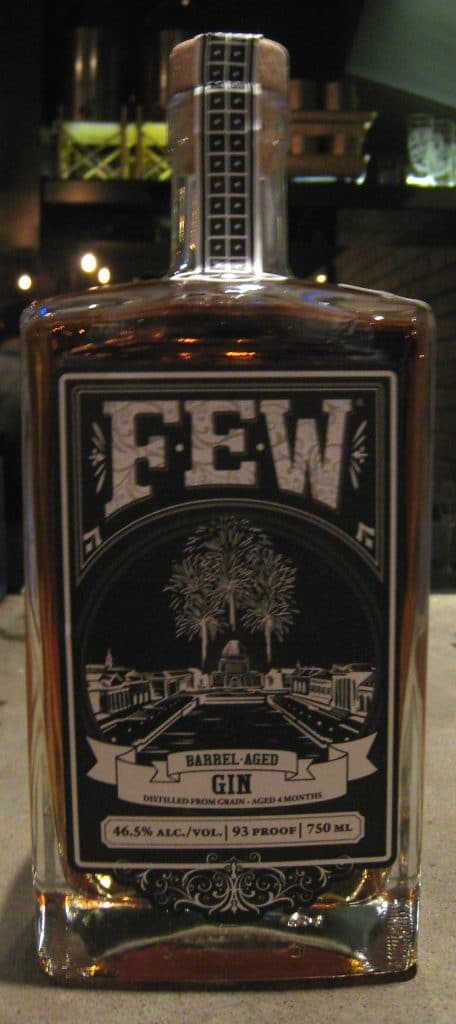 I've been into this before, but I think it bears repeating: if a gin has a white whiskey as it base, and then that gin is aged, is the end product really a gin anymore?
Fortunately for us, Few Spirits has forced the issue for us and this question no longer dwells in the realm of the philosophical, the hypothetical or the theoretical. Its quire real: Few Barrel Aged Gin.
At First Taste you might mistake this barrel aged gin for a Genever, and although you're technically incorrect, you wouldn't be far off in perception. Okay, so Genever has a malt base, this gin doesn't. But the flavor profile that is created is not far off. It has the rich lows of a good Genever. A rich woody character permeates the base. You can pick up the earthiness of the base here, but its in the way that the taste builds that Few Barrel Aged Gin really differentiates itself from Genever and even some other barrel aged gins.
There's a certain spicy sweetness evident here, warm Christmas notes: Cloves, [a good gin-tasting friend of mine pointed out Gingerbread, and I think he may be right], and a faint note of burnt sugar. But its doesn't end there. You get a bright citrus, rich notes of orange and lemon, and most notably, a bit more juniper than I think you get on the mainline Few Gin [that review coming soon].
My Overall Impressions of Few's Barrel Aged Gin are quite good, even if the sample [which again David, thanks so much for bringing over] was small and I didn't have an opportunity to put it to work more than just a few tastings neat. It is aged for four months, which I think might be just the perfect length. The warm wood and other qualities gained by aging stand in balance with an almost traditional gin profile, skewed towards Genever with the choice in base. All being said, it manages to pull it off.
Origin: [flag code="US" size="16″ text="no"] Illinois, United States
Best consumed:  With a single ice cube and a dash of bitters; perhaps a half teaspoon of sugar to taste. An Old Fashioned perhaps? But it works well neat too. 
Availability: Only 150 Bottles were made
Website: http://fewspirits.com/
Rating: A  balanced aged gin that could easily be mistaken for a Genever
[Rating:3.5/5]
Readers' Reviews
Thanks for submitting! Your review will be posted shortly.