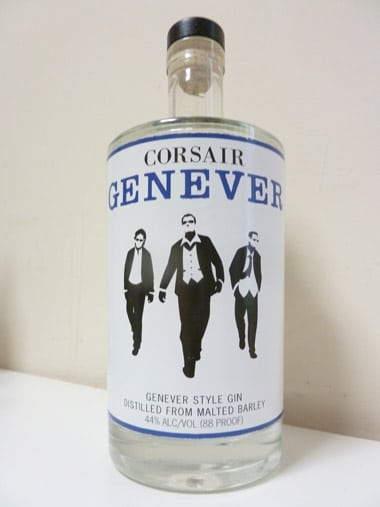 There's a whole lot of gins experimenting with Genever-style warm wheat bases, but surprisingly few craft distillers outright experimenting with Genever.
There's probably an element of business logic in there. Gin is a hard sale to some as it is, but at least people know what to do with it what they get it: whether that's Tonic, Martini, or even Gin and Juice. But Genever?
Genever falls into a category of secondary spirit styles. Some of these secondary spirits have their day. Mezcal has emerged from the shadows and is now trendy and showing up at places not known for cocktail craft. Cachaça is hot and only going to get hotter. Expect the whole world to be talking it when the World Cup and Olympics hit Brazil in 2016. Some of these secondary spirits, such as Arrack or Aquavit, never quite have their day in the sun but still have their ardent supporters. Genever is in this later category. Those who know Genever, know it, and know what to do with it. And to those who don't, it's a hard sell. Therefore if you're a small distiller trying to keep yourself afloat, you're going to tie your fortunes to known and established spirits. And unless you're doing well, perhaps you won't take the time to make a Genever.
But Corsair is among the rare American distilleries experimenting with the oldest of old styles of gin. How does it stack up against our Genevers in a space most often traversed by big names with long histories?
Tasting Corsair's Genever
The nose is warm and malty, largely owing to Corsair Genever's base of malted barley. There's a hint of sweetness and spice, citrus and ginger. Gentle, an inviting aroma that could be considered subtly gingerbread.
The taste is rather sharp at first, a burst of heat. Way more intense than might be expected from 88 proof alone. Warm bread, almost yeasty, but the flavor slowly evolved turning into cranberry raisin type of bread. Notes of citrus, strongly orange, but invoking notes of lemon rind. The spices are cardamom, cinnamon, kind of spicy. Distinct notes of juniper present to, especially on the back end as it finishes in the palette. The end finishes with a bit more alcohol, malty and warm, but fading towards almost neutral alcohol.
Overall, Corsair Genever is malty and nice, perhaps a bit mire citrusy than over Genevers, but I rather enjoy it. It doesn't taste as distinctly Genever as Bols Genever does, but on the same side of the coin it does differentiate itself from other warm grain base gins such as Ingenium Gin.
Price: $32/ 750 mL
Origin: [flag code="US" size="16″ text="no"] Tennessee, United States
Best consumed: Makes a great Negroni, but also worthy of being sipped neat or on the rocks.
Availability: Some states and available nation-wide online.
Website: http://www.corsairartisan.com/
Rating: A rare craft Genever, but one that would be worth your attention even if it wasn't among a small handful of craft Genevers available in the United States today. 
[Rating:3.5/5]
Readers' Reviews
Thanks for submitting! Your review will be posted shortly.