Barr Hill Gin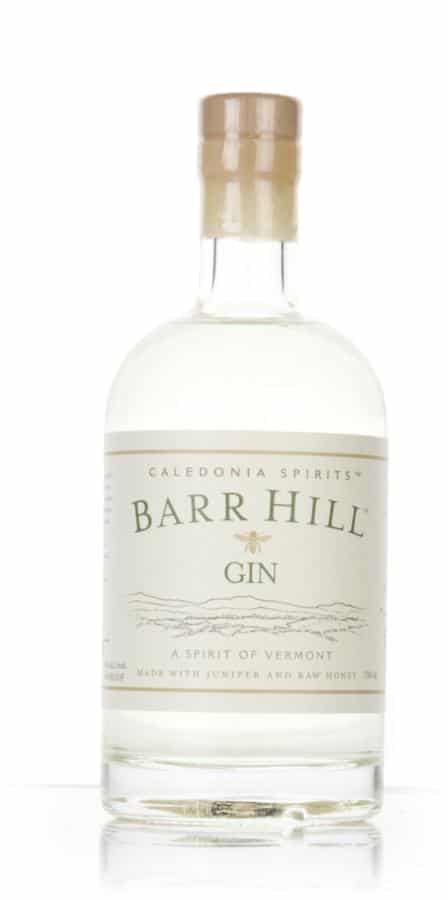 Barr Hill Gin is the acclaimed partnership of career beekeeper Todd Hardie and distiller Ryan Christiansen. Todd's concept was to combine bees and distilling. New Caledonia Spirits in Hardwick, Vermont produces two spirits, both with honey as the centerpiece. Their Barr Hill Vodka is distilled from fermented honey. Their Barr Hill Gin uses raw honey after distillation to a base spirit of corn, distilled with juniper. That's it. Three simple ingredients.
Technically speaking, Barr Hill Gin can rightfully be considered part of the Old Tom Gin family. Old Toms were characterized generally by some sort of sweetening process, whether botanically or most frequently— through the addition of actual sugar or other sweetening agents into the final product.
A big difference though when historically comparing Barr Hill Gin to Old Tom gins of yesteryear, the sweetening was often added to smooth out the edges of a rough or under-distilled base spirit. Barr Hill Gin starts from a fairly neutral grain spirit. The post-distillation sweetening is the Old Tom characteristic we reference when referring to this gin as of that type.
Seasonal variation does play a role in Barr Hill Gin as well. The taste of a bee's honey depends on what flowers are available to the bees. As flowers are seasonal, we'd expect the honey's character to vary. In a 2015 interview with Boston Magazine, Todd Hardie described the variance as such, "In spring you might get heavier notes of apple or maple syrup, while in the summer you're bound to get the hint of something greener and pinier because of the bees' diet of alfalfa and milkweed." [source]
Tasting Notes
These tasting notes are for Batch no. 5; 2015. Barr Hill Gin has a very faint straw hue owing to the honey being added after distillation.
Pine notes leap from the liquid when poured. Heavy doses of juniper immediately evident. The juniper top notes dissipate and you're still left with a robust pine-forward juniper, with hints of pine blossom and dried fir needles.
On the palate you will immediately notice the viscosity of the spirit. It is luscious and surprisingly robust. You don't often get the enhanced richness of a liqueur with the warmth from a 90 proof spirit.
Early, pine and grass notes at the tip of the tongue. There's a touch of real wildflower honey flavor with green leafiness on the mid-palate. The warmth simmers all across the palate while darker, more resiny juniper blooms. The finish is quite long, very warm with a pleasant richness still left on the tongue. Barr Hill's juniper burns out very very slowly. It holds on to the warmth and recedes after an exceptionally long time, even over a minute.
Cocktails
Barr Hill Gin's sweetness demands attention behind the bar. If you're mixing with it, you should expect to reduce the amount of simple syrup from standard cocktails. However, it doesn't demand to be exclusively used as if an Old Tom Gin. The flavor profile warrants a look in traditional gin cocktails as well.
First off, if you want to really appreciate the subtly of the two ingredients, try it neat. Though I have to admit that extra honey makes it almost dessert like when served right from the freezer.
Barr Hill is perhaps my favorite gin for the Martinez. The strong juniper notes and sweet richness of the honey bring it together as you would expect, but the juniper is really the star here. You can smell the gin on the nose still; the increased viscosity again (texture!) is absolutely delightful. Recommended.
Other cocktails of note include the Aviation, Tom Collins (especially with egg white!), and the Negroni. In other words, it covers all of the bases.
Where I was least excited about Barr Hill Gin has to be in some of the more common mixed drinks. The honey was a welcome addition to a Gin and Soda, but the sweetness, especially when paired with a tonic, is just a tad too sweet. With a supermarket tonic, the Gin and Tonic can almost be cloying. Look for  less sweet option like Q Tonic if this is your go-to drink.
Overall
Barr Hill Gin is one of the finest American distilled gins on the market today. Fans of classic gins will love the bold juniper at the fore, while the added sweetness from the honey adds complexity and makes this a gin for more than just juniper-heads.
If you haven't tried Barr Hill Gin, do yourself a favor and find yourself a bottle. Stunning and beautiful, it almost makes me want to go hug a bee.
Highly Recommended.