Blackthorne recipe
2 oz. sloe gin
1 oz. dry vermouth
1 dash of Angostura bitters
1 tsp. of absinthe.
Shake ingredients with ice and strain into a chilled cocktail glass. Optionally garnish with a lemon twist.
Gin recommendations
Because sloe gin is the star, ABV isn't as important. Choose a lighter sloe gin for a softer, lower proof cocktail. A higher proof sloe gin like That Boutique-y Gin Company's Double Sloe Gin will create a cocktail that more closely resembles a Martini or Arsenic and Old Lace.
Blackthorne cocktail history
The About Town Cocktail Book (1925) says "The Blackthorn is a very old cocktail, which is made two different ways." The recipe includes Irish Whiskey and no gin.
The Twentieth Century Guide for Mixing Fancy Drinks by James C. Maloney (1900)

Manual du Cocktail (1901)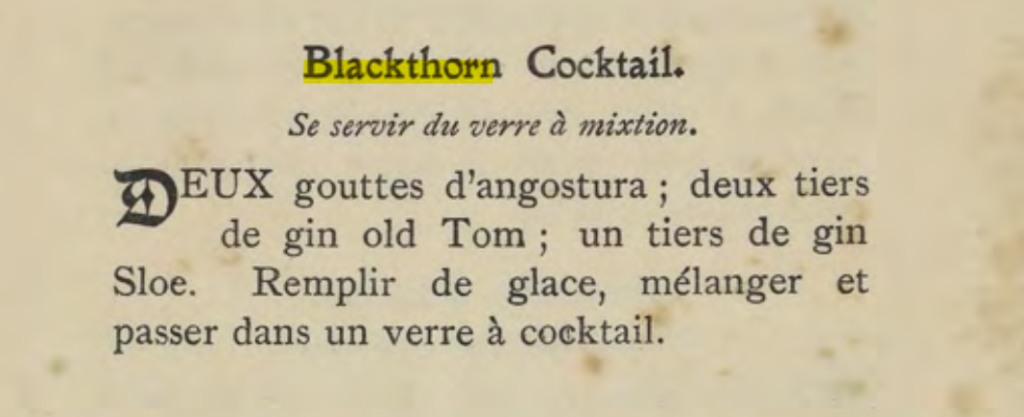 The Complete Buffet Guide or How to Mix All Kinds of Drinks by V. B. Lewis (1903)

From The Reminder by J. A. Didier (1914). His volume included two versions— the "Blackthorne Cocktail" and the "Blackthorne Sour." The latter is the same as was seen in earlier cocktail references.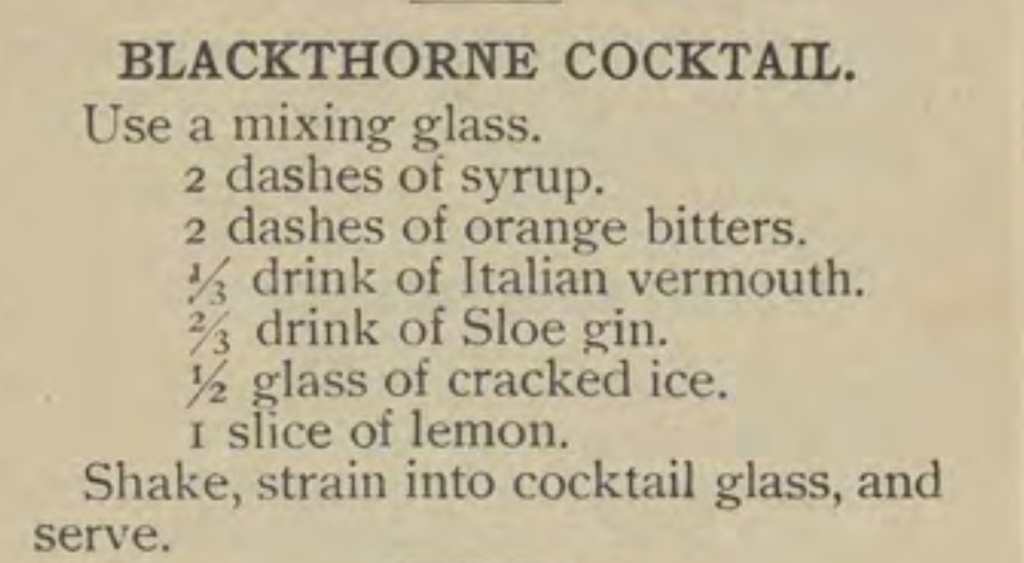 Drinks by Jacques Straub (1914) features a version that closely resembles the modern version.

The Life and Letters of Henry William Thomas Mixologist (1926). This version replaces the absinthe with Maraschino and adds a touch of lemon juice.

The Old Waldorf Astoria Cocktail Book (1934). Many recipes omit the absinthe.

Around this time, the Blackthorne Sour gradually began disappearing from cocktail references, while the Blackthorn with Vermouth continued to be more common.